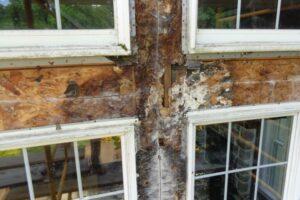 Seeing water damage under window frames can alert you to a much larger issue – namely, that your siding system is missing key elements, or that the components present aren't doing their job. In either situation, it's important to call on a reputable exterior professional offering remediation services that will actually fix the siding system flaws – not just cover them up temporarily. Let's go into more detail on why full remediation is often necessary when windows are leaking, even if it only seems to be a minor, isolated or occasional issue in your home.
Water Damage Under Window: What Causes This?
If you see water dripping or seeping in around a single window in your home during a rainstorm, you might assume that this is no big deal. Quite the contrary, it's a dead giveaway that your siding system is failing in this location, which means there is very likely to be more widespread damage and performance concerns. 
Window and door frames are moisture-vulnerable points where proper siding installation is especially vital. If water is coming in here, it may very well be making its way through the walls in other areas, too. There are several reasons this can happen, but some of the most common include:
Lack of proper sill-pan

flashing

 

Missing or poorly designed drainage pathway 

Missing weep screed

Lack of a high-quality water resistant barrier 
A combination of these installation errors may also be at play; to diagnose the level of damage present and address the underlying causes skillfully and fully, you'll want to enlist a team of proven siding experts as soon as possible upon noticing water damage under window or elsewhere in your home.
Bring Ai Restoration Onto the Scene
If you have any reason to believe that your siding system was not installed with all the necessary components and in a professional manner, it's far better to deal with the issues early on, before they inevitably get worse over time. 
At Ai Restoration, we have years of practice correcting moisture damage and its root sources, throughout siding systems of all types. To learn more about our leading products and solutions for window leaks and other common structural water issues, give us a call at 215-794-6858.