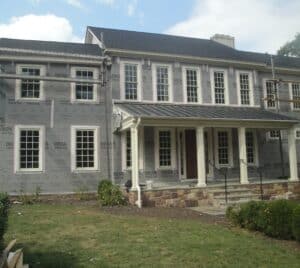 In recent years, more and more contractors who don't have a lot of experience with stucco will blame any exterior problem with the house on the stucco. As a result, many homeowners believe that their mold or water damage is caused by the stucco itself, when in reality, this is a huge misconception. The leading causes of stucco problems are:
Poor installation
Improper flashing
Missing components
Inadequate products and
Outdated techniques
So, if you're experiencing problems with your stucco, know that is most likely what's under the stucco that's causing the issue, not the stucco itself. Which means that if you really want to resolve the problem, simply removing the stucco won't do the trick—you'll only be putting a bandaid on a much larger issue.
What does "re-side" mean?
Re-siding is a general term used when a contractor takes off existing stucco and replaces it with new stucco or an alternative siding option. Re-siding does NOT include any remediation of underlying problems or addressing of potential concerns.
Homeowners are often led to believe that a re-side is a less expensive way to solve their exterior problems, though it's usually much more costly. Cutting corners by re-siding instead of remediating might save money initially, but when the same problems start showing up again (and getting worse under the surface!) your bills will start to increase ten-fold. Your best bet is to solve the problem correctly the first time with true remediation.
What is remediation?
Remediation is the "act or process of correcting a fault or deficiency." Remediating a stucco home means removing the stucco, fixing any damage found, fixing deficiencies, addressing inadequacies, resetting windows/doors, addressing stoops, addressing decks, addressing high grading issues, addressing roof lines, flashing details, installing a comprehensive water management system and installing a new siding product per manufacturer's specifications.
That sounds a lot more involved than just replacing the exterior siding, right? It is—and it's the only way to ensure you've fully eradicated moisture problems that can have catastrophic effects on your home.
Is Remediation Worth It If I Plan On Selling My Home?
As a homeowner, If you accept subpar work when it comes to damage remediation, you could be liable for damages if you decide to sell your home. More and more instances are cropping up where the new homeowner (buyer) is suing the previous homeowner (seller) because they believe the previous homeowner was aware of the water problems and chose not to fix them or chose to go cheap and not fix them correctly.
Warranties for Re-side vs. Warranties for Remediation
Re-side companies will try to entice homeowners with seemingly long warranties, but what is not always obvious is that these warranties are very specific to the siding product and the installation of that particular siding product, giving the re-side company an "out" when future problems arise.
What happens when water starts leaking a few months after the re-side? The re-side company can blame it on someone else and avoid having to make any repairs. For example, they might say it's the windows that are leaking, so it's the window installer's problem. They might say the flashing at the roof lines is bad so it's the roofer's problem. They might say that the stoop, deck, patio were not properly installed, etc., etc. Homeowners in this situation will end up chasing down contractors and very probably end up paying out-of-pocket for repairs.
Warranties with a full remediation, on the other hand, are much more comprehensive, especially with Ai Restoration. Because we are a full remediation company, we fix all of the problems associated with the exterior structure of your home, and all of that work is fully warrantied. We like to say that our warranties hold water, because you can trust that if any future problems arise, we'll be there to take care of them.