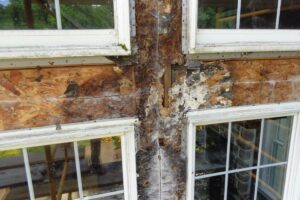 Window flashing is weather-resistant material installed under a building's exterior (siding, stucco, etc.) to divert rainwater and keep it from coming into the structure around windows. If flashing is not properly installed and incorporated into a complete water management system for a building, it can lead to costly water damage, mold and mildew growth and other serious issues. Today, we'll focus in on why you can't simply retrofit window flashing to solve these problems and prevent worsening damage over time.
Why You Can't Retrofit Window Flashing
When a Bucks County area home or business owner presents concerns about their window flashing, some contractors may try to address the problem with a quick fix that is unlikely to stand the test of time. In reality, the solution is not to simply retrofit window flashing, but rather to perform a thorough remediation. Here are some key reasons why:
Certain parts of the flashing, such as EZ Bead and counter flashing, must be put on before the stucco or siding is applied, then patched back in after installation is complete. This isn't possible when retrofitting.

Thus, installing flashing on top of the existing exterior building material (retrofitting) is a shortcut that won't deliver lasting protection against leaks and other issues you may be facing.

Instead, remediation is the only way to truly correct underlying problems stemming from unprofessional flashing installation, water damage or other structural issues.
At Ai Restoration, we offer full remediation services that save property owners money and stress in the long term. Whether you're dealing with an issue related to window flashing, cracking, lack of a proper water management system or something else, you can count on our experts to repair and resolve it the right way.
Partner with Our Remediation Specialists for Protection You Can Count On
Because errors in window flashing installation can lead to costly damage and ongoing headaches, it's vital to have this handled as promptly as possible by a seasoned professional. Ai Restoration has more than two decades of experience and recognition for our unrivaled attention to detail, individualized solutions and exceptional customer service. To learn more and arrange a free in-home consultation, call us at (215) 794-6858 or fill out our contact form today.