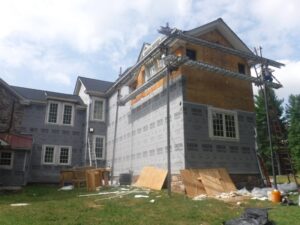 Whether it's stucco, siding, stone or brick, the exterior of your home or business can look perfectly fine and still have underlying problems. For instance, if a high-performance air/moisture barrier wasn't installed during construction, your structure may be vulnerable to leaks, mold and mildew growth and other potentially costly hazards. Today, we'll walk you through how our stucco remediation process works to resolve such issues (or more ideally, to prevent them before they arise).
What Does the Stucco Remediation Process Involve?
Beyond exterior appearance, the stucco remediation process must focus on addressing what lies beneath in order to protect your structure over the long term. At Ai Restoration, we'll take care to ensure the maximum quality, performance and longevity of your entire exterior core building envelope, instead of just making sure it looks nice on the outside and stopping there. In fact, we are the only remediation company serving Bucks County, PA and the surrounding area that installs a high-end self-adhesive water/moisture/air barrier system. 
Key benefits of the Delta Vent SA barrier system we use include:
Keeps water out

– Far superior to the paper-thin products typically used prior to installation of stucco or siding, Delta Vent SA house wrap features a watertight polymeric middle layer. We install it directly over the exterior sheathing to form a reliable seal that moisture absolutely cannot penetrate.

Enables venting

– Delta Vent SA is highly vapor permeable, meaning that any moisture within the building envelope will be able to escape easily through the membrane via diffusion. As a supplement to further speed up the drying process, we install an air flow system overtop. 

Provides an air barrier

– Delta Vent SA maximizes air tightness via full adhesion. Expertly installed by our trained specialists, this barrier will boost your building's energy efficiency.
Partner with Our Stucco Remediation Pros for Lasting Results
Ready to learn more about how we do stucco remediation right? Call us at (215) 794-6858 or reach out online to schedule a free consultation and product demonstration! We offer a vast range of exterior finish options, from vinyl siding to stone veneer. Get in touch today, and we'll be happy to help you decide on the very best material for your home or commercial property, all while offering the personalized attention and service you deserve throughout every stage of your project.