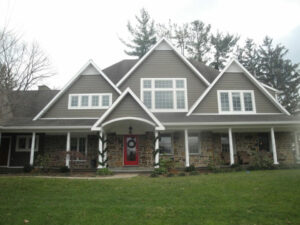 When building a structure – whether it's a home or a large commercial property – it's vital for an effective water-resistant barrier system to be installed on the exterior before the facade. But unfortunately, this doesn't always happen. In the absence of a well-designed water management system, it's only a matter of time before leaks, mold or other damage results. At this point, it's key to find a contractor providing stucco remediation Bucks County can rely on.
This is where Ai Restoration comes in. Over the past two decades, we've helped thousands of Bucks County home and business owners address underlying stucco issues via strategic and thorough methods. By entrusting our experienced team, you'll be able to rest assured that your structure will be protected for the long run, and you won't end up facing the same problems all over again.
Signs That It's Time to Call a Stucco Remediation Professional 
So, how do you know if your structure is in need of stucco remediation? Here are a few tell-tale signs which may indicate stucco damage and thus warrant your prompt attention:
High moisture readings

(levels above 15%) 

Visible leak staining patterns on walls, especially after a heavy rain

Cracked or crumbling stucco

Mold growth on or behind your stucco

Stucco that was generally poorly installed
If you've noticed one or more of these things, it's wise to have your stucco evaluated by a specialist known for stucco remediation Bucks County building owners can count on, as soon as possible. 
When it comes to fixing leaks, mold growth and other issues stemming from stucco for good, it's not enough just to replace the exterior. The only true, lasting solution requires installation of a high-performance moisture management system designed specifically for your chosen exterior finish (siding, brick, stone or stucco). 
For Expertly Done Stucco Remediation, Bucks County Trusts Ai Restoration
Ai Restoration is proud to be the only contractor in the area installing a three-layered, self-adhered membrane that keeps out air and creates a reliable barrier against water and moisture. We firmly believe in the effectiveness of our system, which is why we offer a complete warranty on our work and guarantee long-term protection for your structure after we've finished. Check out our online project gallery to see our high-quality work for yourself, and feel free to call us at (215) 794-6858 for a free estimate.