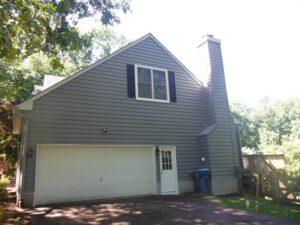 As the siding on your home is exposed to moisture over time, mold and mildew growth can occur – especially in shady spots. If water gets under the siding and doesn't drain properly, this can lead to an enormous amount of damage to your home's exterior. Not to mention, mold and mildew in your walls can pose a health risk to your family. Luckily, there are siding mold prevention steps you can take to prevent these issues. First and foremost, having your siding installed by an experienced, knowledgeable professional is crucial. Let's break down why this is so important.
Siding Mold Prevention: Why Proper Installation Is Key
It's normal to have some mold and mildew form on your home's siding, and this can be easily removed with regular spray washing. However, moisture buildup behind the siding is another story. Without an appropriate water-resistive barrier and drainage system, water will have nowhere to go, thus resulting in rampant mold and mildew growth. If this is not promptly and properly handled, you risk facing tens of thousands of dollars in damage. 
Therefore, it's very worthwhile to do your research and locate a team of experts who are well versed in proper siding installation methods and will take protecting your home personally. This proactive measure will prevent mold and mildew issues that could end up devaluing your home and affecting the quality of the air your family breathes.
Count On Ai Restoration for Professional Assistance with Your Home's Exterior
At Ai Restoration, we specialize in installing water management systems under siding to ensure proper drainage and siding mold prevention. Our siding specialists understand that different types of siding call for different drainage/moisture barrier systems. Rather than cutting corners and taking a one-size-fits-all approach, we carefully design a proper barrier system for each unique siding installation we complete.
Our team has a wealth of experience with all commonly used siding varieties, including:
Vinyl 

Cement board 

Stone 

Composite 

Cedar shake 
Regardless of which siding product you select for your home, you can rest assured that our professionals will install it skillfully, complete with a water management system that is well matched to the individual siding. To request a free in-home consultation, fill out our contact form or call us at (215) 794-6858 today!