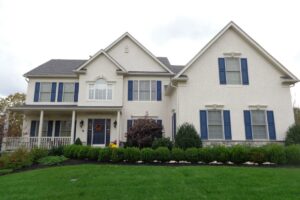 Stucco is a very durable and resilient product; that's a big part of why it's such a popular exterior building material. However, improperly installed stucco can cause a host of potentially disastrous issues. You see, the visible outer layer is merely one part of a complex system, and all parts need to be properly installed and coordinated in order to function effectively and prevent damage. Unfortunately, this doesn't always happen when a home is being constructed, leading to a rising need for stucco contractors West Chester PA homeowners can count on. We're here to tell you about our trusted process and what makes us the best choice for stucco remediation and installation in the Philadelphia metropolitan area.

Ai Restoration Stucco Contractors: West Chester PA's Best

When you suspect a stucco issue, it's important to get to the bottom of it quickly and have it fixed thoroughly. Otherwise, you risk facing more severe problems and costly damage later down the road.  This is where you'll need the assistance of a dependable stucco contractor like Ai Restoration. As a team with 20+ years of stucco remediation experience, we are pros at diagnosing stucco concerns and delivering customized solutions that actually fix the problem, instead of just putting a bandaid on it.
Our crew is highly qualified and well equipped to deal with all manner of stucco issues, including but not limited to:

Deterioration 

Cracking

Staining

Missing/Rusted/Blocked Weep Screed

Thin Stucco

Mold

Gaps Around Windows & Doors 

Lack of Control Joints 
If you're concerned that you could be facing one of the above – or any other stucco issue – Ai Restoration offers the best fully licensed and insured professionals you'll find, in and beyond the Greater Philly area. 

Why We're Rated #1 in Eastern PA

To further demonstrate why we're the stucco contractors West Chester PA home & business owners rely on, here's a review we received from a local homeowner named Peter:

"We had a great experience with Ai. They completed a major stucco remediation job on our home and outperformed our expectations. Their knowledge and experience showed throughout the process, and the exterior of our home looks like new. The Ai team bent over backwards to communicate with us during the process, unlike so many other contractors we have worked with. We were also impressed with how little impact there was inside the house during the work, and the final finishing and painting work in particular was excellent! I highly recommend Ai's services!"

Resolve Your Stucco Issues Promptly & Properly with Ai Restoration 

Bringing in-depth knowledge and attention to detail to every job, the Ai Restoration team specializes in handling exterior building envelope issues of all sorts. Using proven systems and high-performance products, our qualified crew works to thoroughly evaluate and solve issues at their source so they don't recur. For those interested in alternatives to reinstalling stucco, we also offer stone, brick and a wide range of siding varieties. 

If you're ready to create an effective game plan to handle your stucco issues with friendly, trustworthy specialists, call us at (215) 794-6858 or complete our contact form to set up a free in-home consultation.