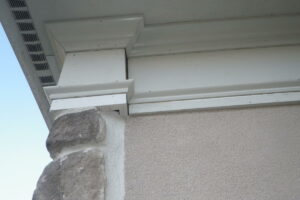 When expertly installed and integrated into a water management system, stucco can offer reliable long-term performance as an exterior building material. However, if a stucco system is poorly installed, this can lead to a host of issues down the line. Upon noticing signs of stucco damage, homeowners might naturally wonder: "Do I need a stucco inspection?" Today, we'll outline indicators which may suggest that a stucco problem could be causing damage to your structure and thus may require prompt attention from a professional.
Do I Need a Stucco Inspection? 3 Common Signs of Stucco Problems
Persistent dampness/staining – While it's normal for stucco to look wet after a heavy rain, this moisture should dry in a timely manner. If dampness or discolored streaks remain for days after a storm – or if they never fade – this points to an insufficient or missing moisture management system that's causing water to seep into the stucco instead of draining.
Cracked or missing stucco – If you notice stucco chipping off of your home or business – or you see long, thin cracks forming in the stucco – it's possible you could be dealing with an underlying moisture issue.
Window leaks – Water coming in around windows and/or doors is another common sign of a problem with stucco and, more specifically, what's underneath. Improper flashing installation may be the culprit here, among other key components that could be missing from the larger stucco system.
If any of these problems are occurring at your property, you're right to sense that something might be wrong and to wonder, "do I need a stucco inspection?" Regardless of what is causing the issue, you can trust Ai Restoration to get to the bottom of it and solve the problem before it gets worse.
Address Your Stucco Concerns with Our Remediation Professionals
As seasoned stucco remediation experts, we at Ai Restoration specialize in correcting any type of fault or inadequacy that can occur in a stucco system. Rather than simply re-siding – a temporary, incomplete fix some contractors may try to sell as a lasting solution to stucco issues – we will complete a thorough inspection and remediation to ensure that all issues have been correctly and truly remedied. For your peace of mind, our remediation services come with a comprehensive warranty. Should any issues arise in the future, you can rest assured that we'll return to take care of them – our warranties hold water!
To learn more about our top-rated services and schedule a free consultation with our exterior building envelope specialists, call us at 215-794-6858 or complete our contact form.