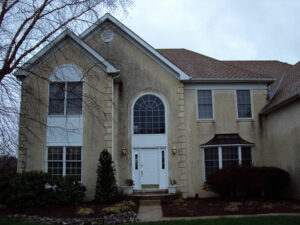 Assuming it is well made and properly installed along with an expertly designed drainage system, stucco is a solid and long-wearing siding material for a home. However, the unfortunate reality is that homes with stucco exterior aren't always designed and constructed by experienced, attentive stucco professionals. If any part of the greater siding system is missing or insufficient, stucco remediation may be needed to correct inadequacies and address any damage that has occurred over time. Read on to learn more about when and why this process may be necessary.
Why Homes with Stucco Exterior Might Need Remediation
If not remedied, stucco issues can lead to moisture intrusion and, in turn, extensive structural damage. So, for owners of homes with stucco exterior, it's important to be aware of signs that the stucco was not properly installed, sealed and/or integrated into a well-functioning moisture management system.
Here are a few indicators that a home may need stucco attention and possibly remediation:
Leaks around windows/doors
Thin or missing stucco in certain spots
Staining/water marks on stucco that don't fade promptly after rain
Noticeable deterioration of stucco (cracking, chipping, etc.)
Stucco that extends below the grade line
If you've noticed any of these signs of potential stucco system issues, it's crucial to contact a remediation professional as soon as possible. An experienced company such as Ai Restoration will perform a thorough investigation to determine the root cause of moisture problems and create a comprehensive plan to make sure they are fully eradicated.
To handle stucco damage, some contractors may propose "re-siding," which means simply taking off and replacing the existing stucco. But, this quick fix won't address underlying issues that may be happening and getting worse out of sight. Thus, the better course of action is to do things right the first time and make sure stucco system issues are truly fixed through stucco remediation.
For Complete Stucco Remediation, Eastern PA Homeowners Trust Ai Restoration
If you're concerned about possible flaws in your home's exterior structure, you can rely on Ai Restoration to bring you a complete solution that addresses any and all problems at their core. With a full stucco remediation from our experts, you'll receive a comprehensive warranty, as we stand by the quality of our work and the systems we use. To schedule a free in-home consultation with our stucco remediation specialists, call us at 215-794-6858.