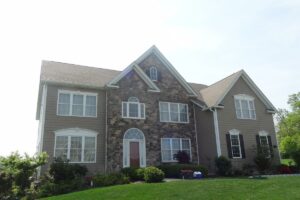 If you're ready to transform the exterior of your home or another property you own, you may be wondering: "Can you put stucco over siding?" The short answer is "no" – but let's take a more detailed look at why this isn't a good idea.
Can You Put Stucco Over Siding? Here's Why Not
If your siding is weathered and worn – or you're simply wanting a new look for the outside of your home – you might be looking into switching out the existing siding for fresh, new stucco. When making this change, it's very important to make sure the siding is removed prior to installation of the new exterior material – whether it's stucco, stone veneer or something else. Here's why:
To avoid issues down the road, stucco needs to adhere to a firm surface. It also needs to be carefully integrated into a proper moisture management system complete with flashing and other components. Thus, it is best to remove the siding to gain a full look at what is underneath and make any necessary repairs/adaptations for a successful stucco system.
If siding is left on, the weight of the stucco could cause it (or any existing exterior material) to crack and take on moisture. In this case, the stucco will almost certainly be damaged along with it and require remediation. This is another reason why the answer to "can you put stucco over siding?" is "no."
Leaving siding in place before installing stucco may save some time and effort in the short term, but as you can see, it can lead to costly headaches in the long run.
Rely On Our Exterior Remediation Professionals for Top-Quality Installation
For any work pertaining to the exterior of your home, it's crucial to partner with experienced professionals who truly care about preserving the integrity, beauty and safety of your structure, as we do at Ai Restoration.
Our specialists work with the full range of exterior options, including siding, stucco, stone and brick. Further, if you're currently experiencing leaks or other signs of an improperly installed exterior, you can count on us to perform a full remediation in which we correct any underlying issues before installing the new material of your choice.
To give you an example, here's the story of how we assisted Phillip at his home in Ivyland, PA:
"The homeowner had a problem with water leaking in and contacted Ai Restoration to help. Ai removed the stucco, installed the necessary flashing and water management system prior to installing new stone and siding."
Whether you have concerns about your current exterior building material or you're simply ready for something new, our trusted PA stucco contractors are here to help. Reach out to us at 215-794-6858 to schedule your free in-home consultation!