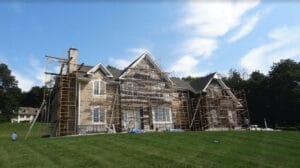 Owing to its durability and long lifespan, stucco is a popular home exterior material in Pennsylvania and beyond. But, in order to deliver these benefits, a stucco system must be skillfully installed and include an effective drainage system to prevent moisture absorption. If the system falls short or lacks key components, it sets the stage for leaks and moisture damage to occur. Repairing stucco might seem like a viable solution in this situation, but in reality, full remediation is the only way to truly fix a faulty stucco system. Keep reading to learn why.

Repairing Stucco: Why You Might Have to Replace Instead

Whether you're dealing with improperly installed stucco, poorly made stucco, inadequate stucco drainage/sealing or a combination of stucco issues, it's important to address them promptly and completely. While repairing stucco may come to mind as a possible option, this route unfortunately won't fix any underlying problems. You're also unlikely to get long-term results from re-siding, or merely replacing the damaged stucco without thoroughly inspecting and addressing flaws in the greater stucco system.

Rather, your best bet is to call a professional for comprehensive stucco remediation, which will include as many of the following as are found to be necessary:

Removing the stucco

Fixing any damage found

Fixing deficiencies/inadequacies

Resetting windows/doors

Resolving flashing issues

Addressing stoops

Addressing roof lines

Addressing decks

Addressing high grading issues

Installing a proper moisture management system

Installing new stucco or your choice of an alternative siding product per manufacturer specifications
While this process may be more involved than stucco re-siding or repair, it's the only surefire way to ensure you've fixed stucco issues at their source so they won't recur. In turn, it's well worth the time and money now to prevent costly worsening damage later on.

Trust Ai Restoration for Help with Your Home's Exterior
At Ai Restoration, our seasoned remediation professionals bring more than two decades of experience to every project. As we've transformed thousands of homes and other structures in eastern PA, we've gained a reputation for delivering reliable work along with exceptional service. If you've noticed signs of possible stucco damage, give us a call at 215-794-6858 to schedule a free in-home consultation and learn more about our proven remediation solutions.