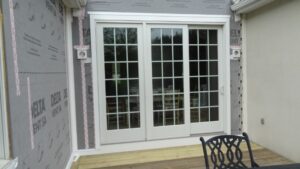 Is the stucco on your home showing signs of age, wear and/or mold growth from moisture infiltration? It may be time to call Ai Restoration, the provider of stucco remediation Doylestown PA property owners have depended on for more than two decades. Today, we'll tell you more about the process we follow when we receive a call from a Bucks County area resident who's concerned about the state of their stucco.
Stucco Remediation Doylestown PA | Ai Restoration
Improperly installed or maintained stucco can lead to significant and costly damage to a structure. So, it's important to address issues promptly, before they inevitably get worse and further damage results. At Ai Restoration, we specialize in diagnosing and resolving stucco problems the right way, so they won't recur. Here's what you can expect when you reach out to us:
We'll evaluate the extent of the stucco damage you are dealing with

– After pinpointing the cause and severity of your stucco damage by taking moisture readings on your walls, our remediation professionals will explain your issue & develop a customized strategy to solve it.

We'll install a high-performance moisture/air barrier system

– Some contractors will repair or re-side damaged stucco without actually addressing the root cause of the problem, setting the stage for the same issues to eventually return. At Ai Restoration, we do things differently. Our trusted stucco remediation professionals use Dorken's Delta Vent SA as our base membrane barrier to ensure proper drainage and proactively prevent future moisture problems at your home or business. We are the only local remediation company installing this high-end self-adhesive water/moisture/air barrier system.
Dedicated to saving our clients headaches and additional expense, we focus on the all-important question of what's under the stucco – not just how it looks from the outside. That's what sets us apart from other contractors in the area and makes us the #1 choice for stucco remediation Doylestown PA can rely on.
Count On Us for Exceptional Service & 100% Guaranteed Quality Work 
Are you eager to get to the bottom of your stucco damage, resolve it, and protect your building for the long term with help from a team of honest experts? Call Ai Restoration at (215) 794-6858 to schedule your free in-house consultation and product demonstration. 
We offer a wide range of highly durable options to remediate the exterior of your home or commercial property, including cement board, composite siding, vinyl siding, stone, brick and more. Reach out today if you're ready to start comparing options to find the best material for your structure.