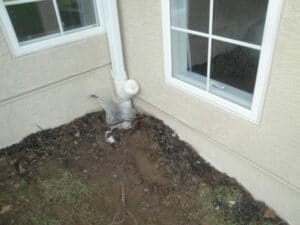 If you have stucco on the exterior of your home or business, there should be a piece of metal flashing along the base of the stucco, at the bottom of the exterior wall. This is known as weep screed, and it's a key component of your stucco system that allows water to drain out. If your system lacks this critical part, you may be wondering: Could doing a stucco weep screed retrofit be a viable solution? Ai Restoration is here to explain why this unfortunately won't cut it when it comes to saving your structure from moisture damage.
Stucco Weep Screed Retrofit: Can It Be Done?
Much like trying to retrofit window flashing to solve window leaks, attempting a stucco weep screed retrofit will be of no value if a proper drain plane system isn't in place. In order to provide an effective channel by which moisture can exit from behind the stucco, the weep screed must be connected with a drain plane system that is properly installed and designed for the structure. Thus, retrofitting is likely to be insufficient, and a complete remediation will likely be required to correct drainage issues due to poorly installed stucco.
There are a number of different weep screed issues that can point to an incomplete stucco system, including:
Rusted Weep Screed

Missing Weep Screed

Blocked Weep Screed
In any of the above scenarios, it's vital to partner with an experienced stucco restoration and remediation specialist like Ai Restoration. Rather than simply replacing or repairing weep screed (as some contractors would do), we perform a thorough investigation to figure out why the issue is occurring and ensure that it is truly resolved – not just temporarily covered up.
Don't Waste Time and Money on Shortcuts; Work with Ai Restoration 
If you've noticed signs indicating that your home or business may be lacking a proper drainage system complete with weep screed, Ai Restoration is the company to call. Since our founding in 1997, we've earned a reputation for our expertise, professionalism and top-quality work. 
Our crew is highly qualified to assess the extent of the damage to your structure and suggest a comprehensive solution to fix it and make sure it doesn't happen again. Give us a call at (215) 794-6858 or contact us online to request a free consultation at your Bucks County area home or business.