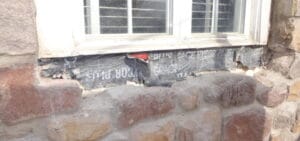 Have you noticed leaks around one or more of the windows in your home or business, especially during a heavy or wind-driven rain? When facing a situation like this, window leak repair caulking may come to your mind as a simple solution. However, while this may seem to work for a while, this probably isn't a full fix, meaning the issue will likely return eventually. In today's post, we'll explain why simply re-caulking leaky windows generally isn't the right approach to protect your structure from water damage.
Why Window Leak Repair Caulking Doesn't Work
When you're dealing with a window leak, repair caulking will likely be insufficient to provide a lasting solution for several reasons. Let's break down the shortcomings of this commonly tried DIY method:
Although adding caulk at spots where moisture is coming in around a window or door may slow down visible cosmetic damage, it won't address underlying issues such as improper window flashing installation or absence of a well-designed water management system.

Even if you can't see it yet, moisture may still be seeping in and causing mold/mildew growth, rot and other costly structural damage in your walls.

What's more, installing a replacement window into the existing frame of your current window and sealing it with caulk will not be effective in keeping water out over time.

For one, this method will not allow for the necessary window flashing details to be installed as specified by trusted window manufacturers. Plus, the caulk will eventually fail, and you'll be back to facing the issue all over again.
Now that you understand why window leak repair caulking is an incomplete solution in most cases, you can see why it's important to call on an experienced professional like Ai Restoration.
How We Helped Jerry & Maria of Pipersville, PA Resolve Window Leaks
To give you a real-world example showing the high quality and dependability of our work, we'd like to share this story:
"Jerry and Maria are former customers that hired Ai to perform stucco remediation and some window repairs at their home a few years ago. When a couple of other windows began to leak, they knew who to call. Ai was hired to remove and replace sections of the natural stone, install a new window and properly reset an existing one."
On our website, you can find our full project portfolio and read more about how we've helped thousands of PA & NJ homeowners and 200+ companies/organizations remediate and protect their structures.
Stay Dry & Say Goodbye to Leaks with Expert Assistance from Ai
If you're eager to determine what's causing leaks in your Bucks County area home and get the problem fixed before it gets worse, it's time to call Ai Restoration. We take pride in our exceptional installation systems, along with our top-quality window and door products made by manufacturers we personally trust. 
We like to say that our warranties hold water, since we guarantee no water will enter your home when you count on us to properly reset or install your windows or doors. To schedule your free in-home consultation, call us at (215) 794-6858 or fill out our contact form online.