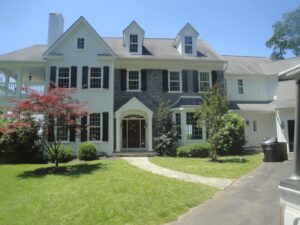 While stucco remains a popular siding choice for homes throughout eastern Pennsylvania and New Jersey, many homeowners are now exploring alternative options such as James Hardie cement board siding. When considering this attractive siding material, "is Hardie board waterproof?" is a common question. Today, we'll discuss this matter and explain why proper installation is key to protect cement board or any other siding material from moisture damage.
Is Hardie Board Waterproof? About This Siding Option 
When exposed to rain or snow, an expertly installed siding system will be able to handle these elements with ease. Even if some water is absorbed, it will leave the system promptly, through a well-designed drainage path. Furthermore, a high-performance water/air/vapor resistive barrier will be there to prevent the moisture from penetrating behind the siding, where it can seep into the walls and cause all sorts of issues.
At Ai Restoration, this is how we install siding products – as the manufacturers specify – for best results. Because the answer to "is Hardie board waterproof?" is technically no, we take the necessary steps to protect against destructive moisture damage and ensure a highly functional siding system with a maximized lifespan. The same is true for other siding materials we offer, including:
Stucco

Vinyl siding

Everlast composite siding

Stone and stone veneer

Brick and brick veneer 

CedarBoards siding

And more 
No matter which type of facade you pick, installation of a water resistant barrier will be absolutely crucial to its performance over time. Without this component and proper drainage, it will be only a matter of time until you are facing extensive mold, mildew and rot – even if you can't see it right away. To avoid these hazards, it's very important to work with trustworthy and experienced siding experts such as the Ai Restoration team.
Stay Dry – Partner with Ai 
As it is exposed to the weather, your siding is bound to get wet. The question is whether it is well installed to withstand the water and keep it from entering your structure. If you have any doubts about how your siding was installed, or you want to make sure your new installation or remediation is done right, call Ai at 215-794-6858. We can set up a free in-home consultation to show you how our systems work at your convenience.