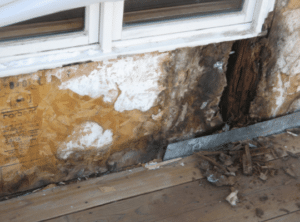 When expertly installed with a drainage path and moisture-resistant barrier underneath, stucco is built to take the elements over many years. But, if these key components are missing or lacking, stucco can be prone to damage. Dry rot behind stucco is among the most commonly seen consequences of moisture intrusion, and it can put your family's health and safety in jeopardy. In turn, this is a matter which needs to be taken seriously and to be fully addressed by trained professionals.

What Causes Dry Rot Behind Stucco? 

More and more, contractors are pointing fingers when it comes to the reasons why a siding system ends up performing poorly and letting in water. Some will say that the stucco – or other siding material – itself is the problem; but, in reality, the issues are far more likely to originate from what's underneath. Leading causes of dry rot behind stucco include:

Improper flashing in key areas like around windows and doors

Outdated installation techniques 

Use of subpar quality products or products not designed for the specific type of siding

Missing components in the siding system, such as weep screed, not allowing for proper drainage and venting

Installation in adverse weather 
Any of the above oversights can easily lead to a situation where stucco becomes overwhelmed by water and it begins to seep into the walls of your structure. Tell-tale signs include cracking, deterioration and bulging of stucco, although you may not always see evidence indicating that there's a problem right away. 

Stucco Remediation Done Right: Ai Brings Proven Solutions

If you are concerned that your stucco or other siding system may not have been installed with the necessary skill, top-quality products and keen eye for detail, turn to the exterior experts at Ai Restoration for help. Unlike some companies, we don't believe in trying to sell workarounds that won't actually fix the core problems in a faulty siding system. Rather, we work to pinpoint the issues and resolve all of them through remediation solutions. 

After diagnosing and addressing all areas of concern and damage, we will install a brand-new siding system of your choice with the manufacturer-specified water management system underneath, making moisture issues a problem of the past. To learn more about our personalized solutions and our top-rated work, give us a call at 215-794-6858 to request a free in-home consultation.