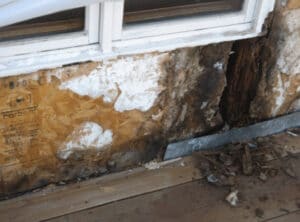 On a home with a stucco exterior, cracking, staining, deterioration and other imperfections may point to stucco water damage. Problems can originate at various parts of the stucco system, and damage may entail far more than what's visible on the top layer. To uncover the cause of stucco issues and fix them for the long term, it's important to consult a true exterior expert like Ai Restoration for stucco investigation and remediation solutions.
Stucco Water Damage: Remediation Solutions
While stucco is an incredibly durable product when installed correctly, improper installation can greatly decrease the resilience and longevity of this popular exterior building material. Beyond the stucco itself, missing parts in the larger stucco system – such as the water management system – can lead to serious problems.
 Let's talk about some common types of stucco water damage:
Mold

– When moisture gets trapped behind stucco in the absence of a well-designed drainage system, mold growth is nearly inevitable. If a look inside the walls reveals mold growth, this indicates that there is recurring water infiltration which needs to be addressed as soon as possible to protect your family and prevent more extensive damage.

Deterioration

– If stucco is improperly mixed, left unsealed or otherwise installed in an unprofessional fashion, it can accelerate the deterioration process. Noticing stucco chipping off is a tell-tale sign that the material is not performing and holding up as it should be, which warrants professional attention.

Lingering water marks

– Since stucco is naturally porous, it's normal for it to absorb some water and look a bit wet during and shortly after inclement weather. However, if water marks persist after precipitation has passed, this means that the stucco is being overwhelmed by water and likely doesn't have a proper drainage channel. Mold & mildew growth and rot can result from this, so it's important to address it promptly.
If any of these concerns come to light at your home, stucco remediation may be needed to solve underlying issues, fix any damage which has occurred and safeguard your exterior for the long run. More intensive than stucco repair, this process involves removing the stucco or other siding material, evaluating all parts of the system, addressing any inadequacies and installing a new high-quality siding product of the homeowner's choice with a high-performance moisture and air management system incorporated. 
Say Goodbye to Stucco Headaches with Assistance from Ai
Worried about possible stucco problems? Bringing more than two decades of experience, the stucco specialists at Ai Restoration are here to help you diagnose and remedy stucco system flaws through a full professional evaluation and remediation solutions. To learn more about our proven process and schedule a free in-home consultation with our experts, call us at 215-794-6858.