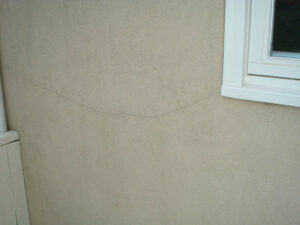 If you see cracks forming in the stucco on the outside of your home, you're right to assume that this means something isn't quite right. You might contemplate fixing stucco cracks with caulk as a possible solution, just as many people do after noticing stucco imperfections. But, as any honest and informed stucco professional will advise you, this simple repair most likely won't go deep enough to address the reason why those cracks occurred in the first place. Let's go into more depth on why.

Why Fixing Stucco Cracks with Caulk Won't Work
Cracks in stucco can happen for a number of reasons, some of which are more serious than others. One of the most common culprits is an improperly mixed coat with an incorrect ratio of cement to sand, causing the stucco to shrink too much and eventually crack. 

Another possible cause is water intruding and getting trapped underneath the stucco exterior, which may be traced back to issues with the installation methods or products used. Left unaddressed, this can result in leaks, mold and mildew growth and other serious concerns.

In any case, it's crucial to get to the bottom of what is going on and ensure it is fully corrected – not just covered up temporarily by fixing stucco cracks with caulk or other workarounds. 

As eastern PA's most trusted team of stucco specialists, Ai Restoration is here to help you address any and all stucco problems at your home in a comprehensive and skillful manner. Advantages of working with us include:

A 20+ year track record of successfully transforming and protecting the exteriors of structures ranging from single-family homes to multistory buildings

The most advanced products and systems available 

Thorough work performed by true experts and backed by a warranty that exceeds the industry standard
Along with expertise in stucco remediation/installation, we are also highly qualified to work with stone, vinyl siding, brick and other exterior finishes, for those interested in stucco alternatives.
Depend On Ai to Fix Stucco System Inadequacies the Right Way 

If you notice indicators of stucco damage at your home, time is of the essence to keep underlying issues from getting worse and more costly to resolve. When you reach out to Ai Restoration, you can rest assured that we will thoroughly assess your stucco to pinpoint what's causing the problem(s) and offer you a real long-term solution. To arrange a free in-home consultation with one of our experts, call us at 215-794-6858.