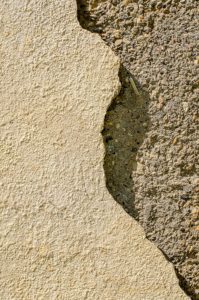 A few posts back, we answered the question "can cracks in stucco cause leaks?" As we explained in that blog, cracking stucco can very well be a sign of underlying moisture damage, which can absolutely lead to leaks. But, why does stucco crack in the first place? Let's explore some of the possible reasons and discuss why professional evaluation is key to properly address cracks and prevent further damage.
Why Does Stucco Crack?
Being that stucco is just one part of a larger system, there are many interconnected variables which can play a role in how it holds up over time. If you notice cracks in your stucco, taking note of their size, location and pattern can reveal a lot about why they happened. For instance:
Structural settling, movement and expansion and contraction over time can result in thin hairline cracks in stucco.

Cracks clustered together in a certain area can be indicative of water damage below, possibly resulting from flaws or missing components in the water management system.

Improper mixing/installation – or installation in adverse weather conditions – can also lead to cracks in stucco, such as widespread, connected cracks known as spider cracks.
These are just a few example answers to the common question "why does stucco crack?" To get to the bottom of stucco damage at your home, pinpoint the exact cause(s) and make sure it gets fixed the right way so it doesn't recur, it's key to work with a reputable expert like Ai Restoration.
Uncover the True Cause of Your Stucco Problems with Ai
If you notice cracks in your stucco, it's important to put solving them on your priority list, before they become more severe and/or cause leaks in your home. If you're located in the eastern PA area, you can count on the pros at Ai Restoration to skillfully assess your stucco and advise you on the correct course of action to handle them, which may be repair or full stucco remediation. To learn more about the difference between the two and our trusted services, give us a call at 215-794-6858 and schedule a free in-home consultation with us.