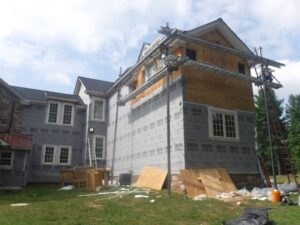 On residential homes throughout eastern PA and beyond, stucco is a commonly seen siding material. Stucco itself is a very versatile and durable finishing material with minimal maintenance requirements. But, if the system underneath isn't expertly designed and installed, homeowners may end up encountering problems with moisture intrusion. At Ai Restoration, we correct all types of siding system deficiencies with our unique stucco process designed to reliably protect your home's exterior from water for the long term. To learn more about what sets our products and methods apart, keep reading.

Our Stucco Process: Advanced Installation & Remediation

There's a common misconception that issues with moisture infiltrating the layers beneath stucco originate from the stucco itself and can thus be solved by simply replacing it. In reality, these sorts of problems are far more likely to stem from what's under the stucco – or rather, from what's not under it but should be. In this case, stucco replacement isn't the solution – stucco remediation is.

Why exactly might stucco remediation be necessary, and what does it entail? Here's an overview:

Why does moisture intrusion occur?

To this day, many homes are built with only a single layer of a thin, paper-like product applied under the stucco or other siding material. This product is put up with staples, after which the siding is nailed on, creating thousands of tiny holes and setting the stage for water to penetrate. The situation is made worse by the fact that there's often no system in place to allow for venting and drainage. So, it's no surprise that over time, this technique does little to keep moisture from seeping into the walls.

Why remediation?

If it comes to light that a structure lacks effective exterior construction complete with a high-performance moisture management system, Ai Restoration can step in to fix any and all underlying issues through remediation. More involved than a simple re-side, this process is the only true way to ensure that all culprits of moisture intrusion are fully addressed.

What happens during remediation?

Phase one of stucco/siding remediation involves removing the siding, diagnosing & correcting problems that are resulting in water intrusion and repairing the damage. To safeguard the structure and prevent further issues, our experts will then install Dorken's Delta Vent SA – a

high-end self-adhesive water/moisture/air barrier system that keeps water out, allows for quick drying and boosts your home's energy efficiency. Finally, we'll install your choice of siding product (stucco, stone, vinyl, etc.) to make your home's exterior look like new.
Work with Ai Restoration to Shield Your Home's Exterior from Water Damage

At Ai Restoration, we make it our personal priority to protect your home, which is why we follow a cutting-edge stucco process that results in a comprehensive, well-sealed, leak-proof exterior core building envelope. To learn more about our stucco services and schedule a free in-home consultation, call us at 215-794-6858.