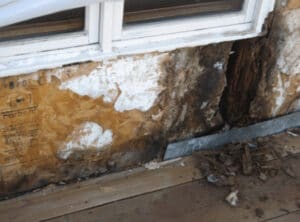 Noticing water coming in around your windows during rainstorms is a sign that something isn't right. Understandably, you'll probably look for the easiest and most affordable possible solution, so your first instinct may be to try adding caulk. While it may help keep water from coming in and causing additional visible damage temporarily, caulking stucco around windows unfortunately won't fully fix window leaks in most cases. Let's go into why.
Why Caulking Stucco Around Windows Won't Solve Leaks
When leaking occurs around a window or door, this is a red flag signifying that there could be an issue with your home's exterior system. These spots are particularly susceptible to moisture intrusion, and if you're seeing signs of water there, it's likely that it's intruding elsewhere, too. 
Moisture may be infiltrating through cracks and getting trapped in your walls due to lack of a proper water management/drainage system, causing rot, mold/mildew growth and other serious issues that can pose a risk to your family. Beyond this, leaks are unsightly and detract from your home's beauty.
To prevent costly moisture damage inside and outside your home, it's vital to have your exterior evaluated to ensure there is an expertly designed stucco/siding system in place that includes all of the following:
Proper flashing around windows and doors

Properly installed control joints

Properly mixed and installed stucco (or other siding product)

Properly installed weep screed

An advanced, high-quality air, vapor and water resistive barrier
Ultimately, caulking stucco around windows won't stand in for these crucial building components; repair caulking will simply put a bandaid on the problem as the bigger issues persist.
Finding a Professional to Fix Stucco Issues For Real
If you're dealing with leaks around windows or doors, or in another spot in your home or business, don't ignore them or try a DIY fix – look to an exterior expert like Ai Restoration for professional assessment and advice on how to effectively solve the problems you face. Drawing on decades of experience, our remediation specialists will provide a comprehensive diagnosis and proposal to remedy any and all siding system deficiencies, so you can rest assured that your structure is protected for the long term. To schedule a free in-home consultation, call us at 215-794-6858.