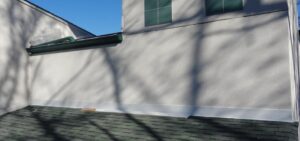 When properly installed, stucco is a long-lasting exterior siding material that can withstand the seasons in PA. But unfortunately, many homeowners run into issues stemming from how their stucco siding was installed, leading to problems like cracking or bubbling stucco, leaks and beyond. While comparing stucco repair companies in eastern PA, it's important to look for one that offers a full range of stucco services, including remediation. Today, we'll talk about their differences and explain why remediation is typically recommended over repair.
Stucco Repair Companies Vs. Remediation Companies
When it comes to stucco issues, there's a common misconception that problems come from the stucco itself when, in reality, they're much more likely to originate from what's underneath. The thing many people fail to realize is that the stucco you see is only one component of a greater system made up of interconnected parts that must all function properly to safeguard the structure over time. 
Beneath the stucco or siding, there needs to be a high-performance moisture/air/vapor barrier that allows for drainage. Additionally, proper flashing around windows and doors is crucial to keep the elements from penetrating the exterior and entering the walls. 
In the absence of one or more key stucco system components, it's only a matter of time until damage occurs. While quick repair-type fixes like caulking may seem like a good way to slow down leaks and/or cover cosmetic flaws, remediation is typically the only true path to solve underlying stucco system issues. 
Far more in depth than a repair/reside job, remediation includes:
Removing the stucco or siding and fixing any damage revealed in the process

Addressing any inadequacies and deficiencies found

Resetting windows and doors and correcting flashing, if needed

Installing a top-quality, built-to-last water management system

Installing the new siding product of choice in accordance with the manufacturer's instructions 
While this will certainly be more involved than a localized repair/coverup, it will be well worth it to fix the problem(s) right the first time, so they do not inevitably persist or recur.
For Stucco Work Backed By Over Two Decades of Experience, Count On Ai
If you're looking for reputable stucco repair companies serving eastern PA, Ai Restoration is the unparalleled choice providing full stucco, stone and vinyl siding remediation and installation services. On our website, you can view examples of projects we have completed throughout the area as well as customer testimonials supporting the quality of our work and customer service. To learn more about us and request a free in-home consultation, call us at 215-794-6858.