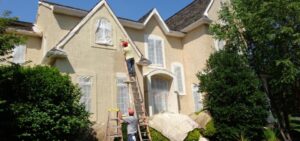 Needless to say, buying a house is a huge commitment. To protect your investment and the people inside your home, it's crucial to make sure your building exterior is properly installed and designed to serve its intended purpose for the long term. At Ai Restoration, our top-rated house stucco contractors serving NJ and PA treat every structure we work on as if it were our own. We help homeowners resolve stucco issues through professional remediation, along with installing stucco and other siding products. Continue reading to learn more about our services and what sets us apart from other contractors in the area.
#1 House Stucco Contractors in PA & NJ
Since our founding in 1997, the Ai team has worked on hundreds of residential properties throughout eastern Pennsylvania and New Jersey. The difference between us and other local house stucco contractors can be clearly seen in:
Our high level of attention to detail

Our unmatched knowledge, experience and customer service

Our comprehensive solutions

Our top-of-the-line products and systems
Maybe you've noticed signs of stucco damage (such as cracking or bubbling) in your home's exterior, or perhaps you're dealing with leaks inside your home. In the face of any sort of stucco problem, calling Ai is the best route to get to the bottom of what's going on and get it fixed the right way.
Unlike some contractors, we won't take the easy way out when working on a problematic home exterior, whether it features stucco, stone, brick, vinyl or a combination of siding types. Instead of putting a bandaid on issues, we provide thorough remediation services that will address underlying damage and resolve the reasons why damage occurred in the first place. 
This process might involve resetting windows and doors, installing a proper moisture/air management system and addressing any other stucco system flaws we uncover before expertly reinstalling stucco (or installing another siding product, if you're ready for something different).
Call Us for Help with Your Exterior Building Envelope – Our Specialty!
Whether you have concerns about the stucco on your eastern PA or NJ home, or you're simply looking to revamp your exterior, the pros at Ai are here to assist. We're proud to have earned a reputation for going above and beyond to safeguard our customers' structures, offering exceptional service along the way. To request a free in-home consultation to learn more about our high-performing products and proven stucco services, give us a call at 215-794-6858.