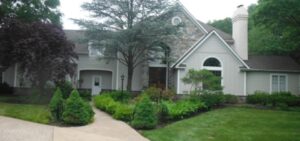 Stucco is a tried-and-tested home exterior material; but, if it is improperly installed, issues are bound to crop up before long. In cases where stucco remediation is needed to address stucco system inadequacies, a homeowner may consider a stucco to siding transition in the process. Siding has attractive benefits of its own, and some people prefer its look to stucco. So, what needs to be done in order to swap out stucco for a different type of siding? The stucco remediation professionals at Ai Restoration are here to tell you more.
Stucco to Siding Transition: Our Process

Upon discovery of stucco issues, some homeowners jump to the conclusion that the stucco itself is what's problematic. In reality, damage is far more likely to originate from what lies underneath, in which case simply replacing the stucco won't fix what's wrong.

There may be components missing from the greater stucco system, such as proper flashing and a comprehensive, expertly designed and installed exterior building envelope that manages water and air. Getting to the bottom of underlying issues and fixing them the right way will require thorough investigation and true remediation, not just a surface-level stucco repair/re-side. 

Once all damage and system deficiencies have been addressed, new stucco or another siding product of the homeowner's choice will be installed according to manufacturer instructions to complete the remediation process. For those considering replacing stucco exterior with siding, Ai Restoration offers several beautiful, high-quality options: 

Vinyl siding

Cement board siding

Stone siding

Brick veneer

And more 
At Ai, we're proud to have successfully completed hundreds of exterior remediation projects throughout eastern PA and NJ, including many stucco to siding transition jobs. As the area's most qualified exterior experts, we're relied on to fully resolve siding system issues while enhancing the aesthetics of any structure along the way.

Count On Ai for Built-to-Last Siding Transformation Services 

Whether you choose to stick with stucco or to explore new siding possibilities, the Ai team will help you diagnose and solve any exterior issues and protect your home or business for the long run. To learn more about our trusted work, our high-performing products & systems and our watertight warranties, schedule a free consultation with us by calling 215-794-6858.