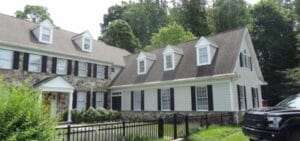 Your home's exterior – whether it's stucco, siding, brick or another material – is a key line of defense to keep the elements from entering your interior. More than what meets the eye, your chosen siding product is only one part of a greater system that must be well designed and installed in order to function properly. If you come across issues with leaks or notice other signs of siding system imperfections, you may search for the most qualified home exterior contractors near me. 
Ai Restoration is proud to rank as the eastern PA & NJ area's homeowner-preferred exterior experts, owing to our outstanding service, workmanship and siding installation & remediation solutions. Read on to learn more about how we can help you protect your home from water intrusion.
Home Exterior Contractors Near Me: Eastern PA & NJ 
If you spot signs that your home's exterior has issues, such as cracks or bubbling in your siding and/or water coming in around windows or doors, you definitely don't want to let these go unchecked for long. Over time, water damage will only get worse and more costly to address.
Thankfully, you can count on Ai Restoration to perform a thorough investigation, pinpointing any siding system flaws and fixing them where they lie. Here are a few things that set us apart:
Our trained professionals have experience working with a wide range of siding products and are knowledgeable regarding the proper practices to remediate and install them. If you'd like to transform the look of your home, we can help you choose your most ideal option or combination of siding products. 

We pride ourselves on using only top-quality products and systems. During remediation, we'll install a proven

three-layer, self-adhered water/moisture/air barrier membrane

to safeguard your home's exterior before adding your chosen siding product according to the manufacturer's instructions.
For more insight into why we're the top-rated local siding installation and remediation company, take a look at this testimonial from our customer Jeff:
"Ai Restoration has done a terrific job with my house, and I am very satisfied with the finished product. They don't treat your house like a job site: they make sure it is cleaned up at the end of every day. Gavin is extremely detail minded and really wants to make the customer happy. Brent does an excellent job communicating at every stage of the work. The crews were very professional and polite, and I trusted them inside my house. You won't regret working with this company!" 
Partner with Our Home Exterior Pros 
For a homeowner seeking the best home exterior contractors near me, in eastern Pennsylvania or New Jersey, Ai Restoration is the unrivaled choice. If you're eager to achieve peace of mind that your home's exterior is built to last, call us at 215-794-6858 to schedule a free in-home consultation.