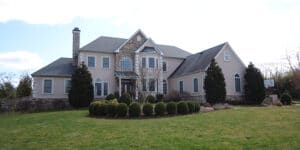 Stucco is a resilient, attractive and long-lasting choice for your eastern PA home's exterior – so long as it is skillfully installed. The visible stucco is only one component of a multifaceted siding system, the entirety of which must be well designed and sealed to keep the elements out. In turn, proper stucco installation is absolutely key to prevent things from going wrong beneath the outer layer. At Ai Restoration, we specialize in installing stucco for long-term success, as well as in remediating problematic stucco systems. Keep reading to learn more about our top-rated services.

Professional Stucco Installation by Ai Restoration

Whether your stucco home is newly built or decades old, there could be a chance that oversights were made when the exterior was added. If this is the case, you may not see signs right away, but serious damage like mold and mildew growth from water intrusion may still be occurring. Leaks around windows and doors, stained stucco, cracking stucco and/or bubbling stucco are a few common indicators of a failing stucco system.

At Ai Restoration, we are proud to say that we do stucco installation the right way, every single time. Here's what this means:

Whether a homeowner chooses stucco or another type of siding product, we safeguard their structure with a high-performance, triple-layered air/water/vapor barrier before installing the chosen siding product according to the manufacturer's specifications. 

Concerned that your existing stucco wasn't done correctly the first time? We expertly diagnose stucco system issues and provide comprehensive, lasting remediation solutions, rather than simply putting a bandaid on problems with quick repairs that don't address root causes.
Because we stand firmly behind our products, systems and contractors, we offer a warranty that far surpasses the industry standard.
Need Help with Stucco or Siding? Call Ai

If you're eager to get peace of mind that your stucco or other siding system is installed skillfully so your home's exterior isn't left vulnerable to the elements, depend on Ai Restoration. To arrange a free in-home consultation to discuss your siding system concerns or needs with one of our knowledgeable specialists, call us at 215-794-6858.