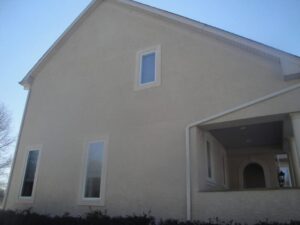 Stucco is known for being a long-wearing exterior finishing material. So, if cracks crop up in your stucco siding, you may rightfully wonder what's going on and if something is wrong. While there are numerous possible contributing factors to cracking stucco, water damage is one of the biggest culprits. If moisture is intruding into the stucco and causing cracks, this may require more than just stucco wall crack repair – remediation may be needed to fully address underlying issues and prevent cracks from recurring. Let's talk about why.
Stucco Wall Crack Repair on Building Exterior
As mentioned above, stucco has a reputation for being durable and reliable – but in order for it to perform well over time, it needs to be properly incorporated with a well-designed moisture management system. If stucco walls aren't designed in such a way that they allow for drainage and protect the exterior of the structure, this can set the stage for water damage to occur. 
Remedying flaws in a stucco system will likely require more than just stucco wall crack repair. To fully assess and solve problems causing cracks, water damage and possibly even interior leaks, you may need a qualified service to perform a remediation, which involves removing the stucco, addressing deficiencies, ensuring a proper moisture barrier and installing a new siding material of your choice.
Ultimately, the level of repair/remediation work needed will depend on the particulars of the situation at your structure. As stucco specialists, Ai Restoration can provide an evaluation of your stucco exterior to determine the best way to proceed. Things we will look for include:
How big/wide are cracks? Are they hairline sized or larger?

Are cracks concentrated in a single area or more widespread?

Are any of the cracks located around dissimilar surfaces like windows?
Based on these factors and other findings from various stucco evaluation techniques, our experts can advise you on what needs to happen to ensure a resilient siding system and to protect your structure for the long term.
Ai: Handling Stucco Issues the Right Way for 20+ Years
If you have concerns about your stucco or other siding material, you can count on Ai to help you make them a thing of the past. Using proven products and systems to restore structures of all sorts, we've been eastern PA's top-rated exterior building envelope specialists for two decades and counting. 
To request a free in-home consultation to get an honest and professional evaluation of your siding issues and how to fix them fully – not just cover them up – reach out to us at 215-794-6858.