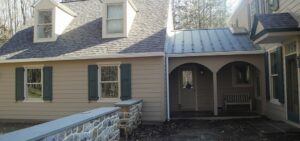 Stucco is a widely used building exterior material that's known for its durability, longevity and versatility. So, it's no wonder it's been used for countless homes in the eastern PA region. Still, if you have a partial or full stucco home, it's important to be aware of the potential issues. Namely, if the stucco was not expertly installed and integrated into a proper water management system, this can lead to big problems. Let's explore how a stucco evaluation from a professional can help you identify areas of concern in your stucco system, if they exist.
What Can A Stucco Evaluation Tell You?
At Ai Restoration, we're stucco remediation specialists. This means we know exactly what to look for when it comes to problems with stucco that need to be addressed, along with how to solve them comprehensively.
During a free in-home consultation, we can help you look for surface-level signs that your stucco system may be lacking essential components, which may include:
Staining/water marks
Deterioration (chipping/cracking)
Thin stucco
Efflorescence (white marks)
Missing control joints
Missing weep screed
Stucco that extends below grade
Gaps around windows and doors
Based on what we find in our initial stucco evaluation, we can help you decide whether or not a full stucco inspection is necessary, interpret your inspection report if you opt to get one and give you an idea of how much remediation might cost. For any manner of stucco issues, you can count on our experienced team to provide full remediation that corrects the underlying deficiencies and protects your property for the long term.
Rely On Ai to Make Stucco System Problems a Thing of the Past
If you're concerned about potential stucco issues at your eastern PA home, look no further than Ai Restoration for help solving them. Our team proudly brings years of residential water remediation and restoration experience to every project we complete. We don't believe in cutting corners, as we truly care about protecting your investment and your family. To learn more about our services and arrange a free in-home consultation with an Ai stucco expert, call us at 215-794-6858.