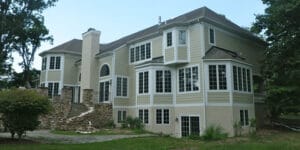 Many homes throughout eastern PA feature stucco as either part or all of their exterior. It's easy to see why, considering stucco is known to be very durable and long-wearing. But all too often, contractors cut corners when installing the siding system, paving the way for moisture issues to come to light later down the road. For homeowners seeking the most qualified company for stucco siding installation near me, Ai Restoration is recognized as the area's unmatched choice. Learn more about how we work to ensure stucco, or any other exterior material, is installed properly to protect your home.
Stucco Siding Installation Near Me: Eastern PA

When we talk to homeowners facing issues like deteriorating stucco or stains on stucco that stick around long after storms end, there's a common misconception that the stucco itself is the problem and simply needs to be taken off and replaced. Similarly, many assume that water coming in around a window or door can be resolved with a new window or door.

In reality, these issues are almost always indicative of flaws in the greater stucco system, which will require remediation in order to be truly and fully addressed. Problems which are commonly discovered and fixed during stucco remediation include:

Missing or insufficient moisture management system

Improper flashing around windows and doors

Missing kick-out flashing at crucial locations

Missing weep screed

No control joints

Thin stucco
At Ai Restoration, our experts are well acquainted with all types of missing stucco system components, and we're well equipped to handle projects of all scopes and complexity levels. Whether you're seeking stucco remediation for your current home or stucco siding installation near me for a new build, you can count on us for siding solutions that stand the test of time.

Don't Settle for An Inferior Home Exterior; Work with Ai

When you invest in a home, the very last thing you want is for your structure to be invaded by moisture, putting your family's health and safety at risk. So, it's important to make sure your exterior is well done by detail-oriented professionals like the Ai Restoration team. In addition to stucco, we specialize in all sorts of exterior installations, including stone, brick and vinyl siding. To learn more about our process and the advanced products we use, call us at 215-794-6858 and request a free in-home consultation.