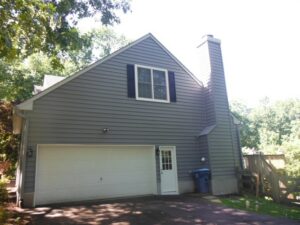 In a recent blog, we answered the question of "can you replace stucco with brick?" Today, we're back to touch on a related topic: switching out stucco for siding. Can siding be installed over stucco? If you've been wondering about this, keep reading.

Can Siding Be Installed Over Stucco?

As we emphasized in our aforementioned post on changing out stucco for brick, it's absolutely crucial to make sure your siding system is skillfully installed with all the necessary components included. This is true regardless of the specific siding material you choose – vinyl, brick, brick veneer, stucco, stone or a combination of products.

What's more, if you're hoping to fix stucco system flaws by adding siding on top without first addressing the underlying inadequacies, it's important to recognize that this won't work. If your siding system is already failing due to missing, subpar-quality or improperly installed parts, simply putting another product over it will not make your problems go away. Here are a few key points to help you understand why this is the case:

 Any type of siding needs to have an expertly designed and installed water management system underneath to allow for proper drainage and prevent moisture intrusion, mold/mildew growth and leaks. 

If the moisture management system or other key components are absent or faulty in your siding system, remediation will be required to resolve the issues. This means taking off the existing siding product – whether it's stucco or something else – to fully evaluate, access and address all areas of concern before properly installing a new siding product.
To make a long story short, the answer to "can siding be installed over stucco successfully?" is no – not without taking off the stucco and making the necessary changes to ensure the structure's exterior will be well protected before installing the new siding. 

Depend On Ai for Experience-Backed Assistance with Your Exterior 

If you're interested in replacing your eastern PA home's stucco exterior with siding or another material, the pros at Ai will be happy to help. Whether you're concerned about potential water damage or you're just ready for a new look, you can rest assured that our trained experts will use proven techniques and high-performing products to deliver a beautiful exterior that is built to last. To learn more about our siding installation and remediation services in a free in-home consultation, call us at 215-794-6858.