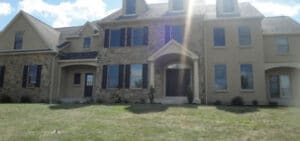 Improper siding installation, missing water management systems and use of low-quality exterior products are all common culprits of moisture getting into stucco homes across eastern PA. Upon experiencing leaks or encountering other reasons to believe their homes may need stucco remediation, Montgomery County PA homeowners look to Ai Restoration for real, professional solutions. Let's talk more about what remediation is and how our company does it the right way.
Stucco Remediation Montgomery County PA: Why Work with Us

When there are flaws in a stucco system, issues are bound to crop up before long. Bubbling or cracking stucco, staining that remains long after storms have passed and leaks around windows and doors are a few common indicators that you may be facing a problematic stucco system. In turn, you'll likely need remediation to solve moisture issues and prevent future damage. 

This brings us to the difference between stucco repair vs. remediation. While some contractors may offer to patch up cosmetic concerns, this won't get to the root of the problems. Remediation – which involves removing the siding product to reveal any and all issues so they may be addressed – is the only true way to dependably fix a faulty siding system. 

If you suspect your home may require exterior remediation, Ai Restoration is the most reliable choice for the task, as evidenced by this quote from our client, Peter:

"We had a great experience with Ai. They completed a major stucco remediation job on our home and outperformed our best expectations. 


Their knowledge and experience showed throughout the process, and the exterior of our home looks like new. 

The Ai team bent over backwards to communicate with us during the process, unlike so many other contractors we have worked with. 

We were also impressed with how little impact there was inside the house during the work, and the final finishing and painting work in particular was excellent! 
Rest Assured That Your Exterior Is Protected with Ai 

Many local stucco contractors don't back up their work, leaving you to pay out of pocket if issues return. Ai, on the other hand, gives you peace of mind and long-term protection with a complete warranty covering all of our work. 
We like to say that our warranty "holds water," because we'll return right away if you begin to notice further signs of water issues after we've completed your remediation. But, this shouldn't be the case, as we have a long track record of successful remediation thanks to our technicians' expertise, attention to detail and use of top-performing products.
Interested in scheduling a free in-home consultation with us? Call our stucco specialists at 215-794-6858 to learn more about our stucco remediation Montgomery County PA trusts.