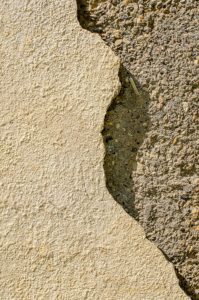 When stucco is not installed properly, it can result in a range of different problems for the homeowner. Some of those problems result in costly repairs. Homeowners across the country have begun filing lawsuits against the builders of their home in order to recoup their money.
Why Are Homeowners Filing Stucco Lawsuits
Stucco, real or synthetic, works well in hotter and drier climates. However, the material  will become compromised in areas with changing seasons and variations in moisture. In these areas, the material can warp and crack if not applied and sealed properly.
Water and moisture will get behind the stucco wall if not properly sealed. The moisture can't drain or dry once it gets behind the walls. The trapped moisture results in mold and rot, severely damaging wooden studs and wall sheathing underneath. The resulting damage can cost tens of thousands of dollars to fix.
Improper application of the stucco will also lead to moisture issues and expensive damage. EIFS, also known as synthetic stucco, must be purchased directly from an EIFS distributor. The distributor is responsible for ensuring that applicators are properly trained and certified. However, there is no guarantee that the EIFS work was done by a certified applicator. If the stucco wasn't properly applied, there is a higher likelihood that there will be problems.
Homeowners across the country have filed stucco lawsuits against various EIFS manufacturers and home builders. The homeowners claim that the damage to their homes could have been prevented.
How Have the Cases Been Fairing?
One severely damaged home in California has resulted in a civil jury trial verdict of more than $500,000 for the homeowners. The jury's verdict award included reimbursement of more than $50,000 spent on the experts who examined the problems in the home.
Homeowners in southern state have also been winning big. A $40 million settlement was proposed in response to class-action lawsuits filed in Tennessee, Illinois and Alabama. The case alleged that the builders were negligent during the construction of their homes.
Local homeowners have also experienced expensive stucco problems. Don Brenner, a Princeton, N.J. lawyer, says he has filed suits for close to 600 homeowners over the past three years. Those cases are still pending.
Recently, the Pennsylvania Office of Attorney General has filed a civil suit against a local building company. The suit alleges that building company failed to follow manufacturers' recommendations, building codes, and accepted industry practices involved in the installation of stucco, resulting in significant damage to their homes due to water infiltration. That case is still pending.
Have Your Stucco Home Inspected by Ai Restoration!
Stucco problems will only get worse if they are ignored over time. If you have signs of damage on your stucco, you should have your home inspected by a professional who has expertise in stucco!
Ai Restoration is a stucco repair company outside of Philadelphia with 17 years of experience in stucco and EIFS remediation.
Call us today at (215) 794-6858 for an estimate!