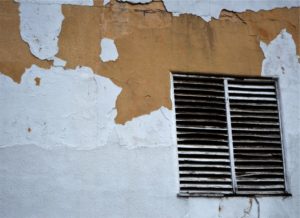 Being in our line of business, we hear many stories from homeowners about their stucco problems. And from what we've heard, New Jersey stucco problems are running wild!
The Problem with New Jersey Stucco
Many of the homes built in New Jersey over the past decade (not to mention thousands of homes nationwide) are coated with an artificial stucco that was sprayed on. The material is called EIFS, which stands for "exterior insulation and finish system". EIFS was originally created in Europe over 75 years. It has since grown in popularity among builders in the US because the material provides excellent insulation and is almost completely waterproof.
It can also be cheaper and easier to apply than traditional stucco. Traditional stucco is a form of cement plastered on a metal frame. EIFS is usually sprayed onto mesh attached to Styrofoam boards.
However, EIFS has been known to cause problems. When the the EIFS is applied, it must be completely sealed. Without the proper sealant, water and moisture will make their way behind the artificial stucco wall. Once behind the wall, that moisture will not dry or drain. That moisture then causes mold that can severely damage wooden studs and wall sheathing.
Stories About New Jersey Stucco Problems Running Wild
We heard a story from one homeowner from Princeton, NJ. After finding damage under his EIF facade, he had to resurface about 80 percent of his house in Montgomery before he was able to sell it last year. The cost of repairing the damage came in at just under $50,000. And even after spending the money on the repairs, the homeowner said he wasn't able to sell his house for as much as some other houses in his neighborhood sold for.
"It was a mess," he said. "We decided to rip it all off and apply a real cement stucco."
We heard another story from a homeowner in Somerset County. Not long after buying his home, he discovered that a great deal of his house's sheathing was covered in a thick, black mold. Most of the sheathing was ruined and needed to be replaced, a job that cost him $30,000.
Have Your New Jersey Stucco Inspected By A Professional Stucco Craftsman!
The problem is that most home owners who have a stucco facade on their home don't necessarily know whether it is the traditional material or EIFS siding. That is why you should have your home inspected by professional who has expertise in stucco!
Ai Restoration is a stucco repair company outside of Philadelphia. We know stucco inside and out! Our skilled craftsmen have 17 years of experience working with residential and commercial stucco buildings.
Contact us at 215-794-6858. We'll answer all other questions you have about caring for your stucco!