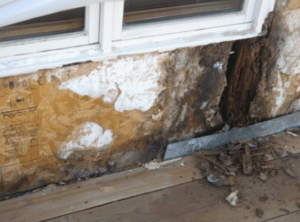 EIFS problems are more common that you may think. Homeowners across the US have experienced EIFS problems that resulted in damage to their home. In order to understand the problems with EIFS, you first need to understand the product itself.
What is EIFS?
EIFS stands for "exterior insulation and finish system" and is often referred to as fake or synthetic stucco. EIFS was originally created in Europe over 75 years ago. The product has become popular with builders in the US because it can be cheaper and easier to apply than traditional stucco.
The difference between EIFS and real stucco is in the application.  A builder applying true stucco will first put down some type of water-repellant interior material, like tar paper or some type of synthetic material. Then they nail on a wire mesh to apply the concrete stucco mixture to.
EIFS is usually sprayed onto mesh that is mounted to styrofoam-type of material. Using the soft, styrofoam substrate allows the builder to use less of cement stucco material.
Why EIFS Problems Occur
EIFS are vulnerable to damage due to the combination of a thin stucco coating over a soft base make. Impacts to the surface can result in cracks. Those cracks in the face of the EIFS allow water and moisture to seep behind the surface. Water and moisture become trapped between the sheathing and the styrofoam portion of the finish system. Over time, the moisture leads to mold and rotting.
EIFS Problems are Becoming  More Common
We've heard from many local homeowners about the issues they've had with EIFS on their homes. One New Jersey homeowner had to resurface almost 80 percent of his house after finding damage under his EIF facade. The cost of repairing the damage was just under $50,000.
But the issue is not isolated to the only North East. States with a lot of rain fall and/or humid climates have been most prone to EIFS-related problems.  Homeowners in North Carolina, South Carolina, Alabama, California, Texas, and Louisiana have reported extensive damages to their homes due to moisture.
Jeff Albright, executive vice president for the Independent Insurance Agents of Louisiana, explains the situation facing homeowners in his state. "Some people would challenge that even if it is properly installed, just the design of the systems itself inherently causes moisture in a moist climate, which obviously we have in Louisiana, and in a good part of Texas, too."
Call a Professional Stucco Craftsman to Solve Your EIFS Problems!
The problem is that most home owners who have a stucco facade on their home don't necessarily know whether it is the traditional material or EIFS siding. That is why you should have your home inspected by professional who has expertise in stucco!
Ai Restoration is a stucco repair company outside of Philadelphia. Our skilled craftsmen have 17 years of experience in stucco and EIFS remediation. We are stucco specialists who know how to preserve and repair stucco, real or synthetic.
Call us today at (215) 794-6858 for an estimate!
Eisenhart, S. (2002). Fake Stucco, Real Trouble: EIFS Related Claims Constrict CGL Markets. Insurance Journal. Retrieve March 7, 2017 from http://www.insurancejournal.com/magazines/features/2002/06/10/19241.htm