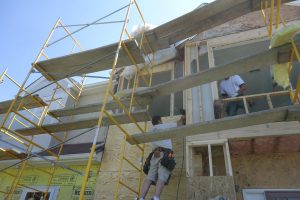 When you think of home, you likely think of a place of comfort and safety. As homeowners, we put a lot of faith in contractors, inspectors, and other experts. We trust that they are capable and trustworthy. Unfortunately, as many unsuspecting homeowners have learned, that is not always the case. This is especially true for the frequently occurring cases of exterior stucco water damage in recent years. Learn more about how to prevent water damage to your stucco exterior and how to approach any exterior stucco water damage repair that you may need.
How Stucco Water Damage Occurs
If you're a stucco homeowner, you've probably heard a stucco damage horror story by now. Yet, contrary to popular belief, stucco is an extremely durable material that is naturally permeable. Unfortunately, stucco gets a bad rap. This infamous, yet unearned reputation has one of two causes. It is either due to improper installation by unqualified stucco installation companies, or to inadequate maintenance. Either way, it can lead to the need for exterior stucco water damage repair.
Signs Of Exterior Stucco Water Damage
When it comes to stucco, water damage actually means that water has breached the moisture barrier. Signs of this breach are:
Cracks in stucco wider than 1/8″
Crumbling stucco
Staining, mildew, or mold growth on your stucco
How To Prevent Exterior Stucco Water Damage
The best way to prevent exterior stucco water damage is two-fold. First, choose a qualified company to inspect, restore, or install your stucco exterior. Any installation must include a high-quality moisture barrier. Second, continue to protect your stucco by having stucco inspection completed regularly. By doing this, you'll catch any signs of exterior stucco water damage before the destruction becomes more problematic and more expensive.
In Need Of Exterior Stucco Water Damage Repair?
Call Ai Restoration for all of your exterior stucco water damage repair needs. With nearly two decades of experience, our team has earned a reputation of reliability, which is the reputation that stucco deserves. We can help with inspections, remediation, restoration, and installation of stucco, as well as other siding choices. Contact us today to make an appointment to discuss all your home exterior needs.