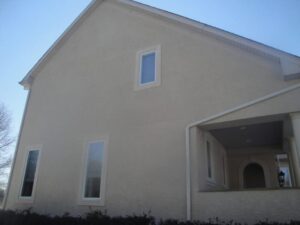 Homes with stucco siding are alluring to many homeowners, as stucco is known for its attractive look, excellent longevity and ease of maintenance. When it comes to how to protect stucco from water intrusion and damage, proper installation is one of the most crucial steps. Let's discuss what professional installation of a stucco exterior entails and what to do if water issues are found to be affecting your stucco siding.

How to Protect Stucco from Water Damage

Over the years, stucco shouldn't require much care beyond cleaning it as needed to keep it looking fresh – that is, so long as it was installed skillfully in the first place. When buying a home, whether it's newly built or decades old, moisture problems might not be immediately apparent. But, over time, signs are bound to show up in the form of staining, cracking, deterioration or even leaks inside your home. 

To prevent moisture issues, an exterior stucco system must be designed to quickly and effectively drain and handle water so that it does not breach the building envelope. This requires expert installation of:

A drainage path routing water out of the siding appropriately

Weatherproofing/flashing tape around windows and doors

A high-performance, moisture-resistant building envelope 
Depending on the specific design and elements of a stucco structure, additional components may also be needed to keep it dry over the long term. 

A Testimonial from Our Customer, Tammy 

"We are so happy with the work Ai Restoration completed for us. Our 12-year-old stucco home was in need of a complete remediation. We interviewed four companies within the Philadelphia region and chose Ai Restoration based on their experience with stucco remediation and the high level of professionalism. We were not disappointed. Ai Restoration exceeded our expectations for the project. 


The team was very knowledgeable and professional. They educated us throughout each stage of the process. The Ai Restoration team was very thorough to ensure the remediation/water management process exceeded all industry standards. There were multiple teams that came out to inspect each step after completion. 


The quality of work and level of detail the Ai Restoration team put into our home exceeds what other companies quoted us. If you want your home done right the first time, we highly recommend Ai Restoration."
Consult Our Stucco Specialists 

If you're wondering about how to protect stucco from water – or how to fix it once damage has been done – Ai Restoration is here to help. To learn more about why we're the leading eastern PA company for stucco installation & remediation services, call us at 215-794-6858 and request a free in-home consultation.