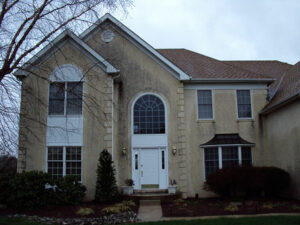 Buying a stucco-sided home in eastern PA can be a great long-term investment. But, if issues with the stucco siding and possible water intrusion become apparent, it's important to address them right away to protect your home and family. To truly fix stucco problems for good, surface-level exterior stucco water damage repair likely won't cut it. Rather, you'll need to go a step further by finding a company like Ai Restoration to provide full remediation of any and all flaws throughout the greater stucco system. Read on to learn more about our process.
Exterior Stucco Water Damage Repair & Remediation Done Right 

To understand how to correct faulty stucco, it's valuable to have a bit of background information on what a stucco system is made up of and how it should perform:

Key pieces of a stucco siding system generally include flashing around windows and doors, weep screed, control joints and a drainage path that enables moisture to exit the stucco shortly after precipitation falls. 

All of the necessary elements must be present and well designed to work together in order for a stucco system to function properly. 

If one or more parts are missing or weren't installed skillfully, it can be a major project to resolve this. Remediation is likely to be needed in these cases, which means taking off the stucco siding to see underneath and fix stucco issues at their point of origination.
Because it involves more steps and more work than simple exterior stucco water damage repair, remediation is assumed to be a last-resort option by many homeowners. In reality, this comprehensive approach should actually be your first response at the first sign of stucco system inadequacies. 
While repairs may cover up cosmetic damage, they aren't likely to last, as they won't get to the root source of problems. In the long run, investing in remediation first will save you from dealing with recurring headaches and make sure moisture damage doesn't become more severe out of your sight. 

Work with Our Exterior Experts 

If you're seeking out a trustworthy provider of complete stucco remediation in eastern PA, look no further than Ai Restoration. Bringing more than 20 years of experience to the table, we are proud to be one of the few local companies offering a full warranty on all of our work. To learn more about how our advanced remediation solutions give home and business owners long-term structural protection and peace of mind, call us at 215-794-6858 and schedule a free consultation.