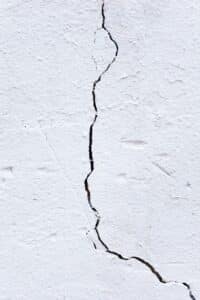 Whether you've owned your eastern PA home for years or just recently bought it, it's always good to be on the lookout for signs of possible water damage. One of the most common is cracks in stucco siding. When stucco cracks, water intrusion often follows shortly thereafter. (We'll talk more about why this happens below.)
So, what should you do if you notice the stucco exterior on your home is cracking, bubbling or otherwise looking abnormal – in specific places or throughout? Ai Restoration is the place to call for professional stucco evaluation and true remediation solutions that get to the root of stucco issues. 
Stucco Cracks? Water Intrusion Is Not Far Behind
While you may assume it's no big deal to see a few stucco cracks, water intrusion is likely to occur in tandem – and this can turn into a significant problem very quickly. In fact, stucco holding onto moisture is a leading cause of stucco cracking in the first place. Here's a bit of background information on why this is the case:
Over time, if water does not have a proper drainage path, it will find its way into cracks and penetrate through layers of the building envelope. 

This can lead to leaks, mold and mildew growth and other unpleasant, potentially unsafe scenarios.
Unfortunately, improper stucco installation that leads to issues like cracking and resultant water penetration is far from a rare occurrence. Flaws on the surface of your stucco can point to greater issues, such as missing or subpar stucco system components. Often, problems stem from a lack of a high-performance drainage path designed to route moisture out of the stucco quickly after rainfall.
Trust Ai for Individualized, In-Depth Stucco Solutions 
If stucco problems are uncovered at your home or business, it's important to have them fixed properly and promptly to stop damage from becoming more severe. At Ai Restoration, our stucco remediation professionals treat every structure as if it were our own, carefully assessing stucco system flaws and doing the detailed work needed to correct them. 
With decades of combined experience, our team exclusively uses the most advanced products and systems to revamp exteriors and ensure structures of all sorts are protected for the long term. To learn more about our process and schedule a free in-home consultation, call us at 215-794-6858.