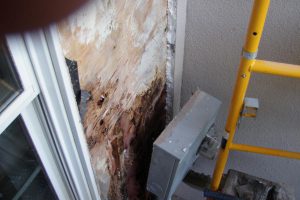 Home ownership can be both fulfilling and stressful. For homeowners with EIFS or synthetic stucco, stressful synthetic stucco problems are all too common. If you have a home with EIFS, you need information about exactly what lies beneath the surface of your seemingly beautiful exterior. In this blog, Ai Restoration discusses what can go wrong with synthetic stucco.
The Underlying Cause Of Synthetic Stucco Problems
Synthetic stucco's makeup makes it desirable for its energy efficiency, but this can also lead to synthetic stucco's major enemy: trapped moisture. When water manages to sneak its way beneath the surface of the stucco after rain, snow, and other moist conditions, it has no way to get out. This trapped water then begins to wreak havoc on your home in the form of expensive and devastating water damage. Unless you are a stucco expert conducting an inspection, it is often difficult for the average homeowner to detect or diagnose the problem until it is too late.
Severe Synthetic Stucco Problems
Moisture with no escape route can lead to many destructive problems in your home, such as:
Unsightly racking and peeling of paint
Cracking of drywall
Delamination, which is synthetic stucco detaching from your home's exterior
Rotting of wood beams and trim
Mold and mildew growth, both on interior walls and beneath on the home's base walls
Infestation of termites and other moisture seeking insects
Overall weakened structural foundation
Unfortunately, homeowners with synthetic stucco or EIFS often discover extraordinarily expensive destruction to their homes when it is too late to stop the problem at its source.
AI Restoration: Your Recourse For Synthetic Stucco Problems
If you have damage to your home related to synthetic stucco, you need to immediately call in a professional inspection team that is familiar with EIFS and stucco systems. We've inspected and remediated too many homes to count that have been afflicted with synthetic stucco problems. We are committed to making your home safe and strong for your family once again. If you're concerned about your EIFS home, call Ai Restoration today to examine your home for hidden synthetic stucco problems.