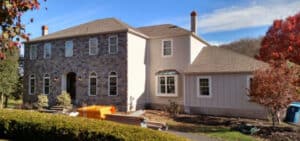 Have you noticed water coming in around your windows during rainstorms? Even if it's only a little bit each time, this can add up to serious wood rot around windows. What's worse, this is most likely only one symptom of a much larger issue with the weatherproofing on your home's exterior. Let's talk more about why window leaks typically indicate siding system flaws (and what to do about it).
What's Causing Wood Rot Around Windows?
Because they require creating wall openings, windows and doors are among the first places moisture is likely to come into your home if it isn't well protected from the elements. In turn, wood rot around windows signals that you may be dealing with bigger things going wrong with your home's exterior. Here are a few more notes on that:
There are many different components that need to be present in order for a siding system to function properly, whether your home is covered with stucco, brick, vinyl siding or another material. 

One of the key pieces is a moisture management system expertly designed to route water out of the building envelope so it doesn't end up making its way inside. 

Along with the drainage path, other key parts of a well-designed and protected exterior include flashing around windows & doors, weep screed and control joints. 
Even if these elements are technically present, unfortunately this doesn't necessarily mean that they were skillfully installed for long-term performance. If you begin to face moisture problems as a result of faulty installation or inferior products, chances are you'll need siding system remediation to truly address the root cause(s).
Tackle Moisture Issues for the Long Run with Our Pros
At Ai Restoration, we've been helping home and business owners resolve moisture problems at all sorts of structures for two decades and counting. If you're concerned about window leaks, cracks or stains on your siding or other potential indicators of moisture damage, we're here to help you get to the bottom of why it's happening and enact the necessary remediation plan to make sure it doesn't occur again.
While some local contractors take shortcuts, patching up cosmetic damage that is bound to come back as the underlying inadequacies remain, we are dedicated to performing true and thorough remediations using the leading products and techniques. To schedule a free in-home consultation with one of our siding specialists, call us at 215-794-6858.