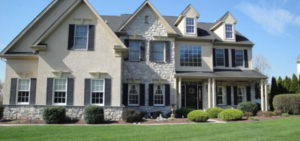 For owners of stucco homes in New Jersey and Pennsylvania, the experiences with the material usually fall into two camps. For many homeowners, stucco is a wonderful building material, combining both form and function. Stucco is a very attractive material for the exterior of a home and also a very practical one. It's very energy efficient, fire retardant, and reduces noise pollution.
However, not everyone is fortunate enough to have positive experiences with their stucco. Over the past couple of decades, many homeowners in the mid-Atlantic region have been plagued with stucco that was not properly installed and as a result, is not water resistant. If you're the owner of a stucco home built within the period roughly from 1985 to 2004, it's important to make sure your home does not show any of the common signs of a need for stucco remediation. 
Common Stucco Problems in New Jersey and Pennsylvania
Stucco extends below grade

– Like many stucco problems, this is caused by improper installation by the contractor. Two major problems arise as a result of such mistakes. First, water which is contained in the stucco moves downward and has nowhere to drain. Next, the moisture problem is exacerbated as the stucco pulls more moisture out of the ground.

Deterioration

– This is primarily caused by stucco being left untreated. The process can be accelerated by a variety of factors, including pressure washing, improper mixing, poor installation, landscaping too close to the wall, and heavy concentrations of water. The application of a sealer can help protect against this process.

Water marks from heavy rain

– Homeowners in the mid-Atlantic region are particularly vulnerable to excessive moisture in their stucco, as a result of the high precipitation levels in this area. Visible watermarks on the exterior of the stucco are the most reliable indicator of moisture saturation. Again, the most effective way to combat this is to apply a strong sealer.
If you've noticed any of these signs in your home, it's imperative to consult a stucco remediation expert as soon as possible. When it comes to moisture control issues, time is of the essence. Better to handle the problem now than wait for the damage to become more extensive.
Contact Ai Restoration for Building Exterior Consultations
At Ai Restoration, we take a comprehensive approach to tackling stucco problems. We know that the most important part of the process is not only fixing the problem, but determining the source of the problem in order to prevent future issues. If you think you may be in need of stucco remediation in New Jersey or Pennsylvania, contact us today for an on-site consultation.