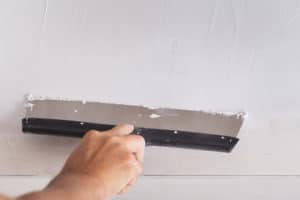 The stucco weep screed is one of the most important parts of stucco installation in order to avoid any instances of water damage near the foundation of your home. The weep screed should be installed along with the new stucco on the exterior of your home. Why? The short answer is that if the weep screed is missing, the installation is not complete. The weep screed is vital to stucco installation because it allows moisture to escape the stucco.
How Stucco Weep Screed Works
The weep screed, typically installed at the foundation sill line or about six inches above the grade, is a place where excess moisture can drain out of the exterior. It will contain drainage holes for the moisture to "weep" out of, so that it does not damage the wall. The weep holes should be directly below the drainage plane for the rain screen and the holes should be large enough that they can ventilate the rain screen air gap.
What Happens When There's No Weep Screed?
Moisture damage is likely to occur in an stucco home with no weep screed installed. It can also be a problem if the stucco is improperly installed or something is blocking the weep screed. Why? Since the weep screed is not present or blocked, the moisture won't be able to leave the area where the stucco is installed. The more moisture present, the more likely it is mold, rot or other damage to occur near the base of your home. The mold, if not discovered soon enough, could penetrate the exterior walls and wind up inside your home.
It can be a challenge to deal with a missing or improperly installed weep screed. These systems cannot be installed retroactively, so it's important that you consult with a reputable contractor with stucco experience. The longer you go without a weep screed, the more moisture will permeate the stucco and the more damage could occur.
Call Ai Restoration Today
Have you noticed any stucco issues with your home? It's possible your stucco was installed incorrectly. If so, it's time you call Ai Restoration to schedule an appointment for stucco repair. Call the office at 215-794-6858 to schedule your stucco consultation with our trusted team today.