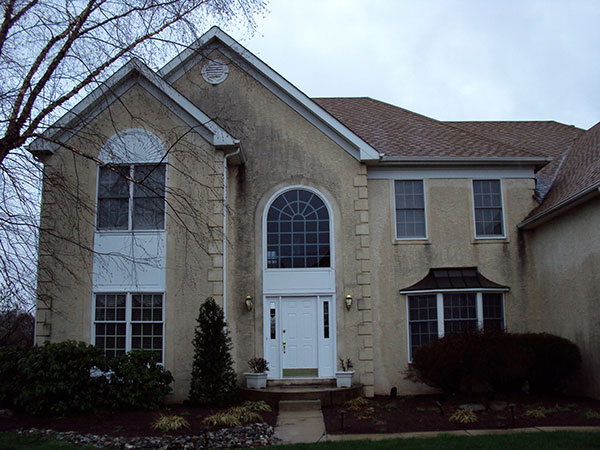 Handling stucco water damage is no picnic. However, in order to fix the damage appropriately it's important to understand how stucco gets damaged. As remediation professionals who work closely with homeowners and other contractors in the industry, we make it a priority to educate homeowners about possible causes of stucco failure, how we remediate those problems, and how we prevent them from happening in the future. In today's blog, the professionals from Ai Restoration are here to tell you about the most common causes of stucco water damage.
Improper Flashing or No Gutters
First, it's important to understand that stucco involves a system of various parts to help keep your home clean and dry. One of those essential parts is sill-pan flashing. This strip of metal gets installed with your windows and helps prevent moisture from leaking through the most vulnerable parts of your home, and getting down into your home's foundation. If moisture gets there, you can face some serious problems. So, if your flashing wasn't installed properly, or if your home doesn't have gutters, you could face serious water damage.
Stucco Water Damage from Hydraulic Pressure
Second, like we mentioned above, stucco involves a system of parts. Another essential part is a water-resistant barrier (WRB). This thin sheet of plastic-like material gets installed between your stucco exterior and the interior parts of your home. It exists to help prevent moisture from accumulating within your stucco wall. However, if your home didn't get built with a WRB, or if its WRB gets damaged, water can collect behind the stucco wall and cause blooming and blistering.
Stucco Water Damage from Wicking
Third, wicking occurs when the stucco wall's plaster consumes or absorbs moisture. This often happens if one of the parts in your stucco system isn't functioning properly, or wasn't installed correctly (like a weep screed). Wicking can lead to efflorescence, staining, and blistering.
Surface Moisture Issues
Fourth, and perhaps less frequently, sometimes surface moisture can cause water damage. For example, if your outdoor sprinklers weren't installed properly. Certain surface moisture problems can bring mold and deterioration.
Call Ai Restoration to Fix Stucco Water Damage
As you can see, most causes of stucco water damage come down to improper installation. With a team comprised of true building exterior specialists like the ones at Ai Restoration, you simply won't face issues with your sill-pan flashing, WRB, weep screed, or anything else because your stucco will get properly installed. Therefore, if you want proper installation or remediation, contact the pros at Ai Restoration!