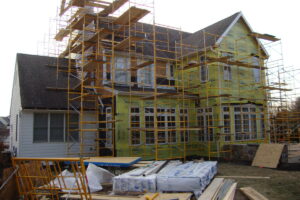 When it comes to the exterior of your home, there's more to it than meets the eye. It's not just about how it looks, but also about what lies out of sight. If your home isn't equipped with a properly installed vapor barrier to manage moisture underneath the stucco or siding, it can lead to a host of problems, including but not limited to: leaks, mold & mildew and loss of your structure's integrity. These issues are serious business, so it's important to work with a qualified and trusted stucco services provider if you have reason to suspect your siding system may be insufficient.
At Ai Restoration, we ensure that exterior cladding of any sort is properly installed, carefully diagnose any issues and provide comprehensive remediation services when needed. Keep reading to learn more about our company and why eastern PA home & business owners depend on us to handle everything related to their structure exteriors.
The Bucks County Stucco Services Experts: Ai Restoration
Issues can arise at any layer of your structure's siding system. If layers are missing or damaged, it's important to address this as promptly as possible to avoid further damage and deterioration. For more than two decades, our team has been using the most advanced methods and products available to remedy stucco issues.
In addition to offering relied-on stucco services, we have the skills and knowledge needed to work on projects with any sort of exterior material, including:
Brick veneer
Stone siding
Vinyl siding
Cement board siding
And more
In our thorough remediation work, we also take care of any existing or potential issues around windows and doors. We're certified as a Marvin Authorized Replacement Contractor, meaning our crew has the specialized training needed to perform top-quality installation of new window and door products, when necessary.
For a client perspective on the quality of our services, check out this testimonial from Jerry:
"Our experience with Andy, Karen and Ai personnel was great. Their work was thorough and professional and they were supportive during this difficult time. We have been very pleased with the end result and have gotten many compliments on how outstanding our home appears. Thanks and great job."
Stucco Problems? Look No Further than Ai Restoration for Skillful Remediation
Our outstanding reviews like the one above speak to our dedication to delivering excellent work and service. Whether you're concerned about possible stucco system inadequacies or you'd simply like to explore options for modernizing your home's exterior, we're here to help. Call us at 215-794-6858 to learn more about our services and schedule a free in-home consultation with our stucco experts.