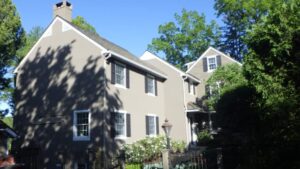 Whether you're experiencing side effects of an improperly installed stucco system or you're simply ready for a new look for your home exterior, you may be seeking companies offering stucco removal near me in eastern PA. The installation and remediation experts at Ai are here to fill you in about the proper process for upgrading your exterior.
Searching for "Stucco Removal Near Me"? We Can Help!
Whether your stucco system requires attention or you're eager to evolve from stucco to another siding material like vinyl, brick or stone, the following steps are crucial:
Taking off the existing stucco

– This is necessary to expose the underlying components and ensure that everything is well designed and protected. It's important not to skip this step; otherwise, any problems currently present will merely persist, even if new siding is applied over top.

Designing an effective new system

– If you're switching to a different type of siding, our experts will create a moisture management system customized for the material and your unique structure. 

Completing the installation

– Finally, our knowledgeable, detail-minded pros will install the new siding product of your choice, carefully following the specific manufacturer instructions to ensure that it is air and watertight.
For stucco removal near me done with skill and care, followed by reinstallation of a siding system that's built to offer long-term beauty and performance, look no further. The Ai Restoration team has you covered for all of your exterior enhancement needs, both functional and aesthetic. 
Have Siding Needs? Call Us!
If you're unhappy with your current siding for any reason, whether it's concerns about moisture intrusion, age, appearance or all of the above, it's important to find a team you can trust to help you properly revitalize your exterior. 
At Ai, we never take shortcuts, and we treat every structure as if it were our own. We have proven experience converting exteriors from stucco to other materials and vice versa with great success. To learn more about our exterior solutions, give us a call at 215-794-6858 and request a free in-home consultation.