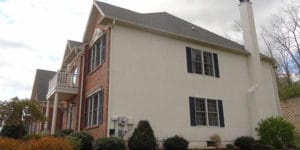 When choosing a new siding material, most modern homeowners in eastern PA seek out something that not only looks great, but that will also hold up for many years to come. Affordability is also important for many. On the search for a durable, attractive and budget-friendly option, brick veneer vs. vinyl siding is a commonly made comparison. Let's go through some key factors to consider when deciding on the best option for your personal home or business.

Brick Veneer vs. Vinyl Siding: Which is Right for You?

Desired look

– If you love the classic and ever-charming appeal of

brick

, then you might consider using brick veneer to create this timeless aesthetic for a lower cost. Meanwhile, if you're aiming to modernize your home exterior, vinyl siding can help you achieve this goal.

Budget

– Again, brick veneer is a more affordable alternative to traditional brick, as it is thinner, more versatile and easier to install. Vinyl siding is also a well-suited option for the cost-conscious homeowner, with the exact pricing ultimately depending on the variety chosen and the specifics of the project.

Longevity

– So long as they are properly installed and cared for, both vinyl and brick veneer siding can offer many decades of protection against the elements combined with an enduringly beautiful look. 
Whichever way you lean in the decision between brick veneer vs. vinyl siding, making sure the siding system is expertly installed using top-quality products and techniques is of paramount importance. Finding true professionals who will thoughtfully design and install your chosen system with all the necessary moisture management elements will give you peace of mind that your structure is well defended, thus avoiding the need for costly remediation down the road. 

High-Performance Siding Is Our Specialty

As we always say here at Ai Restoration, a siding system is only ever as good as its installation. Working with our seasoned exterior specialists who've been doing this since 1997 or even longer, you can count on a watertight installation that incorporates all the necessary parts for the type of siding you select. 

Whether you're contacting us for a new installation or remediation of a problematic siding system, we'll be happy to schedule a free in-home consultation to discuss your unique needs and how we can assist. Call us at 215-794-6858 to get started.