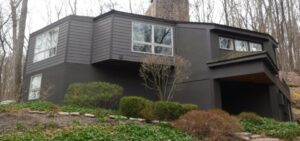 If you're researching providers of stucco house repair in your area, it's likely that you've been led here by a report or visual signs indicating moisture intrusion through your siding. Whether you're planning to stay in your eastern PA home for many more years or you're looking to sell in the near future, it's important to resolve any and all siding system issues as quickly as possible. This begs the question of whether surface-level repairs can address problems at hand, or whether remediation will be needed. Our stucco professionals are here to provide some insight.

Stucco House Repair: Is Remediation Necessary?

If you have any reason to believe that your stucco siding may be failing to perform and letting in water, it's vital to take quick action. But, is full remediation really what's needed to stop moisture damage? Most times, the answer is yes — here's why:

While repairs might temporarily fix cosmetic imperfections like cracks in stucco or

water damage

inside your home, they're ultimately not a full solution. This is because they don't address what's underneath the siding, or more likely what's NOT underneath (a well-designed drainage path so moisture doesn't get stuck).

Another problem with stucco house repair is that you typically won't get a comprehensive warranty on the work this way. This means that when problems inevitably recur, you'll be right back to square one.
With remediation from professionals like Ai, on the other hand, you'll get a full warranty covering the products and the work done, since it includes reinstallation of new siding.
Start Fresh with Expert Exterior Remediation 

If your stucco proves to be problematic to the extent that full remediation is required, the silver lining is that this offers an opportunity to change up the look of your exterior. If you're tired of stucco, you might select something new for your siding reinstallation, such as modern and versatile James Hardie fiber cement siding. 

We offer a wide range of siding styles and colors to choose from to achieve your desired aesthetic. Most importantly, we install each of them according to manufacturer instructions, with a proper moisture management system to keep the elements out of your new siding over time. To learn more about our exterior solutions and how we can help you resolve your siding troubles for good, get in touch with us at 215-794-6858 and request a free in-home consultation.