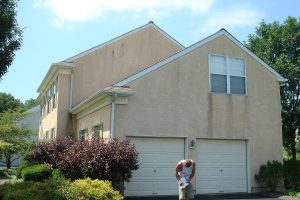 When it comes to being homeowners, we have so much on our to-do lists. It is hard to keep up with it all. With so much going on, you might be wondering if you can ignore stucco discoloration for the time being. However, at Ai Restoration, we have dealt with many catastrophes due to customers overlooking what they think are merely surface blemishes.
Stucco Discoloration: What You Need To Know
Say "NO" To Paint: While you may be tempted to treat stucco discoloration as a cosmetic issue that can be concealed, we urge you to reconsider. First, covering the stain does not correct the root problem. Second, and more importantly, painting stucco only causes further problems. This is because paint does not allow for stucco's natural permeability to function. Trapped moisture leads to severe water damage and mold growth, destroying your home's foundation.
The Casualties Of Cleaning: How can cleaning stucco lead to a problem? It's simple. In our business, we see countless customers with severe damage caused by cleaning with chemicals and power washing —both of which degrade the durability of your stucco.
Not Just "Skin" Deep: Stucco discoloration is not a surface problem. Often, seemingly superficial staining denotes a deeper problem. Depending on the color of the stain, the cause can be easy and inexpensive to fix, or more extensive and pricy.
Clue Into Color
Stucco discoloration signifies issues that you must not ignore. The most common colors that creep onto stucco are black, brown, and green. Typically, these discolorations are related to moisture making its way beneath the surface of the stucco. Moisture will wreak havoc on the exterior and foundation of your home, which can lead to thousands and tens of thousands of dollars in damage. To stop this damage in its tracks, your safest and smartest choice is to call in stucco professionals.
Expect The Best With Ai Restoration
To determine the root cause of your stucco discoloration, you must contact an expert stucco remediation crew. Call Ai Restoration for a free consultation and inspection of your home's exterior. Renowned as local and national experts, our team is chosen for our reliable service and comprehensive expertise. Contact us today via our website or call 215-794-6858.