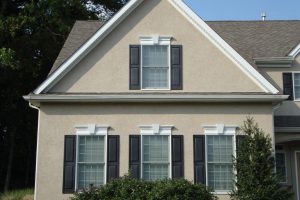 Thinking of choosing a new color scheme or design plan for your home's exterior? We bet you're excited, and maybe a bit overwhelmed with all the choices. Consider enlisting our experts at Ai Restoration. Our expertise is not limited to stucco remediation and restoration. Because of our nearly 20 years of experience in the stucco industry, we are confident in our knowledge of recognizing modern stucco colors that will stand the test of time.
Modern Stucco Colors That Will Captivate For Years To Come
Stucco is known as an elegant and timeless material. Thus it's important to choose a color scheme that complements stucco's classic appeal. The good news? Modern stucco colors lend themselves to a stunning and sophisticated home exterior. To choose the color that suits your tastes, consider our suggestions:
Cool and Calming: If you find yourself drawn to cooler colors such as blues, greens, and grays, we suggest choosing a pale grey or a faint misty blue.
Warm and Welcoming: If you tend more toward warm tones, a current favorite is warm brown, reminiscent of desert sand dunes.
Tried and True: Classic stucco colors are always a great choice. White and beige may seem too traditional, but they are a timeless part of stucco color trends that will never go out of style.
Colors That Are Complementary
For a pristine look on your stucco home, white is always a great choice for railings, shutters, or trim. If you're more inclined to add a trendier, eye-catching pop, consider a midnight blue or even black. Both create a sharp appearance and stunning color combination. Regardless of color choice, the choice of stucco company is paramount. Avoid companies who make promises that seem too good to be true–such promises usually are.
Ask The Experts: Ai Restoration Is The Crew For You
No matter what colors appeal to you, we can make your dream home exterior a reality. We use a one-of-a-kind re-facing technique—never paint—to achieve the most stunning result. A local company with national renown, our team at Ai Restoration relies on our stucco expertise to ensure our clients' satisfaction.