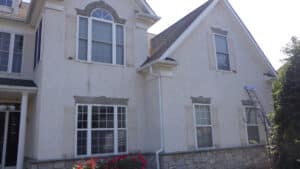 Across eastern Pennsylvania and other parts of the country, stucco facades are a common sight on both homes and businesses. Typically, stucco is chosen in neutral colors like tan, beige, off-white or gray. Especially on the lighter shades, stucco discoloration can be quite noticeable when it happens. What's more, it can prompt property owners to wonder whether this is merely an aesthetic problem, or whether they should be concerned about a deeper issue with the stucco's performance. Let's look into this matter.
Stucco Discoloration: When to Worry
In a well-designed stucco system, stormwater will drain out of the exterior in an efficient and prompt manner while the building materials underneath remain dry. This functionality requires the following components to be present and well integrated:
Weep screed at the base

Drainage channels throughout

High-performance air and moisture barrier

Flashing around windows and doors
If one or more of these key parts is missing or lacking in some way, it can spell major trouble for your exterior in the form of rot, mold and mildew stemming from moisture penetration. Stucco discoloration is just one of the symptoms you might see, along with stucco that's cracking, bulging or falling off. 
Keep in mind that stucco is a porous material and it's normal for it to take on some water, making it a bit darker when it's wet. However, if it doesn't return to its normal hue in a timely manner following precipitation, then it's a good idea to consult a team of stucco professionals to gain insight into why this is happening and how best to address it.
Our Pros Pinpoint & Resolve Stucco System Flaws 
If you have doubts about whether your stucco exterior was properly installed with all the necessary parts in place for effective moisture management, don't hesitate to reach out to Ai. Our trained experts can diagnose any problems with your siding system and fix them at their source through remediation. 
To learn more about our meticulous stucco issue diagnosis process and the advanced products we use to protect buildings of all sorts for the long term, schedule a free on-site consultation by calling us at 215-794-6858.